Lion is only a male and female two-state cats are gregarious animals, is powerful on Earth of the cats. Lions living environment, the other cats are at a disadvantage. Beautiful shape, the mighty figure of regal power and fantastic speed perfect, has won the reputation of "king of the beasts". The Lions have exaggerated mane, the African lion's huge size, is one of the largest cats in the world. Today, the vast majority of lions live in sub-Saharan Africa.

Lion in the image of Christian (Christian lapel pins) symbolism, either is good, on behalf of the mighty, brave and generous, but also for the Friends of the companion of saints or heroes. But also can be evil, on behalf of a violent, cruel and bloodthirsty, is toward kind of generation and the beasts of the martyrdom of saints. Better or worse, the symbol of the lion always authoritative and strength. The crowned lion is a symbol of Christ incarnate. Trophy of the Venice Film Festival is the winged lion.

Below lion lapel pin is the offset printing pins. Two lion head with fierce teeth at two side, "LIONS" on top, ong big "L" and "INTERNATIONAL" next. Bottom is the words: "PIIRIKOKOUS 107-F SEINAJOKI 2008". We do not know what's the meaning. Background color is the sky blue. Belong to the animal pins as dog lapel pins.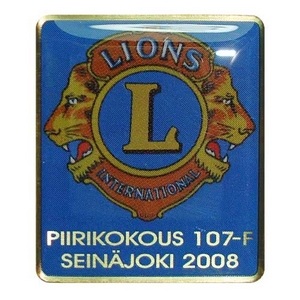 Below is the detailed specification:
1) Lion lapel pins
2) Material: Stainless steel/bronze
3) Size: 20x18mm or custom size
4) Attachment: Butterfly clutch
5) Production process: Printing-punching-epoxy
6) Minimum order: No MOQ
7) Sampling time: 7 days
8) Delivery time: 7-18 days for 100-10000pcs
9) Packaging: Each into a free poly bag
10)Payment Terms: T/T, Western Union, Paypal