The salamander is plump and cylindrical in shape, much like a lizard (
lizard lapel pins
), with a long, flat tail. Newt skin is moist, moist, sticky, and has an unusually bright body color—or has obvious markings or crest-like protrusions. I have short limbs and no webs on my feet.
Adult salamander have eyelids and are motile, but juveniles do not have eyelids. Salamander have tails that are similar in shape to lizards but have no scales on the surface. Unlike frogs, it has a long tail throughout its life. The salamander have poor vision. They mainly rely on olfactory predation and feed on tadpoles, frogs, small fish, tadpoles, and water flea. Like other amphibians, they rely on their skin to absorb moisture and therefore require a humid environment. After the ambient temperature reaches minus Celsius, they will go into hibernation.
The salamander lapel pins have the all black 3D shape, same as the Newt, black body with yellow spot. It's the 3D zinc alloy material with well polishing process. So no scratched, smooth all the surface. Like the salamander, yellow color are printing. Accurate printing area, same as the
Giant Salamander lapel pins
.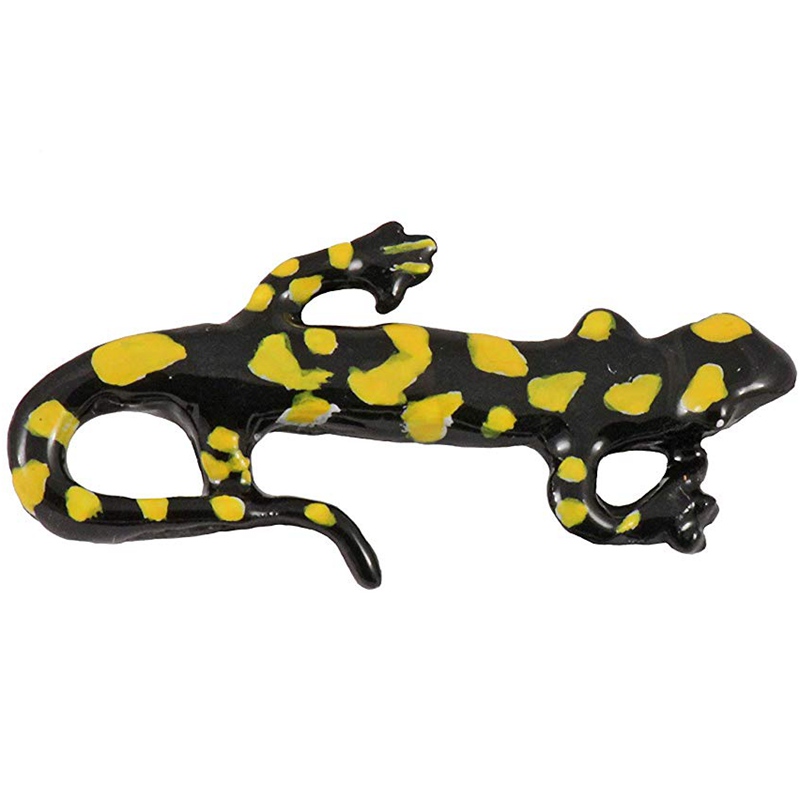 Here are the details:
1) Salamander Newt lapel pins
2) Zinc alloy/pewter alloy
3) Size: 1.5" or custom size
4) Attachment: Rubbers or butterfly clutch
5) Production process: Die casting-polishing-plating-printing
6) Minimum order: No Minimum (No MOQ)
7) Sampling time: 7 days
8) Delivery time: 10-15 days for 100-5000pcs
9) Packaging: Each into a free poly bag
10)Payment Terms: PayPal,T/T or Western Union