Dolphins are aquatic mammals, mostly small-toothed whales. They are widely used in the world's oceans and are also distributed in the brackish water near the sea and rivers, occasionally in inland rivers. Usually like to live in groups, prey on fish, squid and so on. It mainly inhabits the warm tropical waters and usually lives in shallow water or at least stays near the sea.
The dolphin's torso is spindle-shaped, smooth and hairless, with a healthy and flexible body. It is good at jumping and snorkeling. It is the fastest mammal in the water. The activity relies mainly on the echolocation function, which has excellent hearing in both water and air. The nostrils are on the top of the head for venting. Their brains are complex and have good memory. They can learn many movements under human training. They are one of the most intelligent animal families. They have a gentle, friendly and lively personality and are popular among people all over the world.
Do you want to custom dolphin pins? Here
Lapel Pins CN
can help you, we making any design, any size, any color pins. Many technoloy as glitter, glow in the dard, 3D, spinner, split, epoxy, printing, hard enamel, soft enamel… This dolphin lapel pin have the pink main color, black eyes and white abdomen. Simple gold metal lines, looks very cute.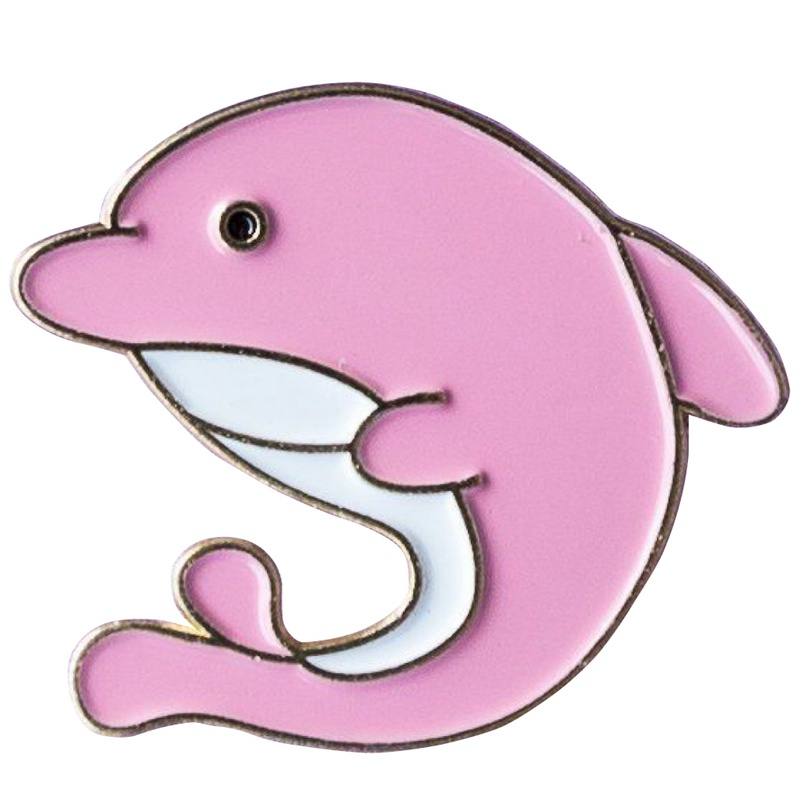 Here are the details:
1) Dolphin lapel pins
2) Iron/bronze/zinc alloy
3) Size: 1.25" or custom size
4) Attachment: Rubbers or butterfly clutch
5) Production process: Die casting-gold metal-soft enamel
6) Minimum order: No Minimum (No MOQ)
7) Sampling time: 7 days
8) Delivery time: 10-15 days for 100-5000pcs
9) Packaging: Each into a free poly bag
10)Payment Terms: PayPal,T/T or Western Union