Monkeys are members of three species of human primates. The monkeys generally have a well-developed brain with the eyelids facing forward, narrow sputum spacing, and the toes (finger) of the hands and feet are separated, and the thumb is flexible. In addition, because baboons resemble monkeys, orangutan (
orangutan lapel pins
), gibbons, etc. are often referred to as monkeys in informal settings, but biologists do not consider them monkeys. This is different from the difference in appearance caused by the different types. Monkeys do not have any significant features because their characteristics are derived from apes and baboons.
The vast majority of monkeys live in arboreal or semi-arboreal life, with only ring-tailed lemurs, toads and apes living in the rocky areas. Most can walk upright, but not for long. Mostly during the day, monkeys are mostly omnivorous, plant-based, and do not give up meat at their fingertips. Orangutans have a large amount of food, and almost all of their activity time is used for food.
The monkey lapel pins have two monkey pins: one is the big dark brown, he seems angry, toothy and eyes wide open, made with zinc alloy material, black metal with
soft enamel
. The left finger pointed to someone. The small monkey lapel pin is cute, hold his mouth, has yellow head with pink ear, black eyes, nickel silver metal with hard enamel process.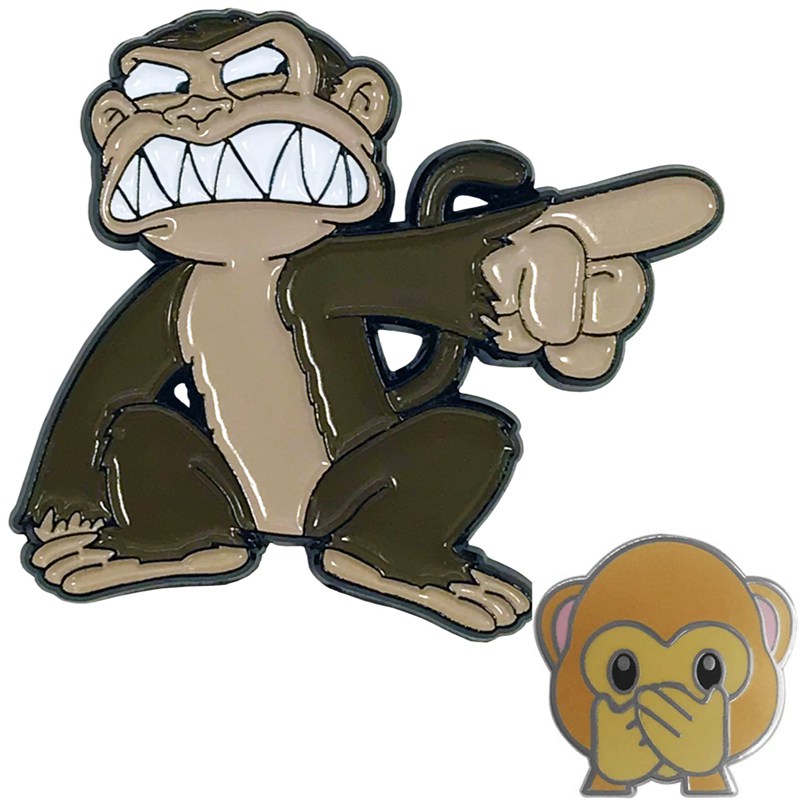 Here are the details:
1) Monkey lapel pins
2) Material: Iron/bronze/zinc alloy
3) Size: 1.25" or custom size
4) Attachment: Rubbers or butterfly clutch
5) Production process: Die struck-polishing-black dyed-soft enamel
6) Minimum order: No Minimum (No MOQ)
7) Sampling time: 7 days
8) Delivery time: 10-15 days for 100-5000pcs
9) Packaging: Each into a free poly bag
10)Payment Terms: PayPal,T/T or Western Union