"Rising Star" is a reality show that has become popular in Israel, and then has landed in the United States (
USA lapel pins
), France, Britain, Germany and other countries. In terms of program content, it includes many elements of other traditional music (
music lapel pins
) reality show programs, such as players need to pass through the concert to pass, such as four star instructors sitting on the scene, and once the number of votes exceeds 70%, originally blocked the players' big This mode of the screen will rise.
The most subversive change in this program is the creation of a dedicated APP platform for the show. The audience can vote for the favorite players through the APP, and the photos of the voting viewers will also appear on the big screen of the scene. Together with the 93% of the audience votes, it will inevitably increase the participation of the program. Compared with previous text messages and networks, which are easy to falsely report and brush tickets, using the smart phone APP voting mode, in addition to allowing viewers to increase their presence in the program, it is also a new way to make reality show programs using Internet thinking.
This rising star pins or called rising start badge have the rising star logo: two star connected one half and another four triangle star. It's a two layer design, have a lower edge around , six small blue stars are in the big star. Center words:"Rising Star". Left star looks like higher and rising.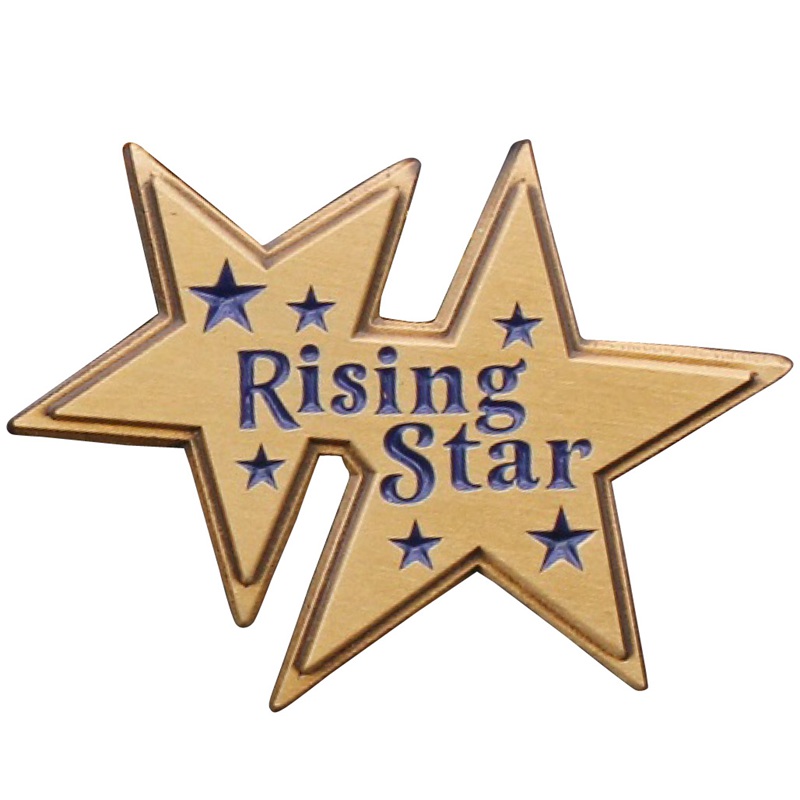 Here is the details:
1) Rising Star pins
2) Material:Zinc alloy
3) Size: 1.5" or custom size
4) Attachment: Rubbers or butterfly clutch
5) Production process: Die casting-polishing-gold plated-soft enamel
6) Minimum order: No Minimum (No MOQ)
7) Sampling time: 7 days
8) Delivery time: 10-15 days for 100-5000pcs
9) Packaging: Each into a free poly bag
10)Payment Terms: T/T Western Union PayPal