Jellyfish are important plankton in the aquatic environment. Jellyfish is a very beautiful aquatic animal. Its body shape is like a transparent umbrella. The diameter of the umbrella is large and small. The umbrella of the large jellyfish can be up to 2 meters in diameter. Some tentacles can be as long as 20-30 meters. The main component of the jellyfish body is water, which is not only transparent but also floating. When they are exercising, they use the water spray in the body to reflect. In the blue ocean, these swimming jellyrs of different colors are very beautiful.
Whether it is tropical waters, temperate waters, shallow waters, oceans about 100 meters deep, or even freshwater areas, they are traced. Jellyfish existed as early as 650 million years ago, and they appear even earlier than dinosaurs. All live in the ocean.
In 2008, Xia Cunxiu, a senior researcher at the Woods Hole Marine Biology Laboratory in the United States, Martin Charfi, a professor at Columbia University, and Qian Yongjian, a professor at the University of California, San Diego, obtained the Nobel Prize in Chemistry for studying the luminescence principle of jellyfish.
This jellyfish lapel pins have the long tentacles, seems more big than the head. Light purple tentacles around each other, the center is the blue things like plankton, some dot in the umbrella and body. Head have the purple color, all colors are so beautiful. Here are some pins in the sea:
seahorse lapel pins
and
sea turtle lapel pins
.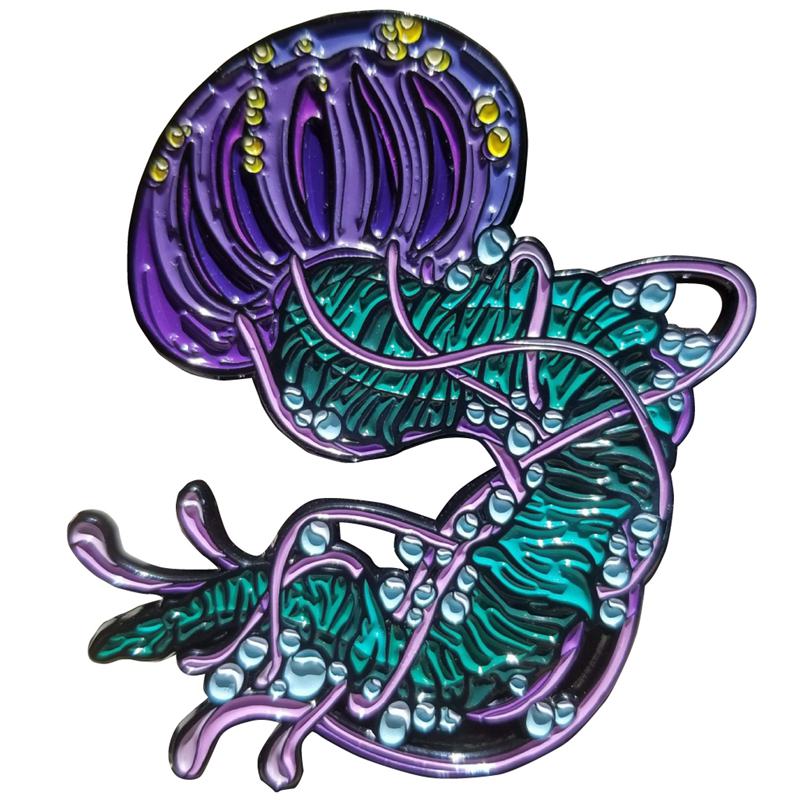 Here is the details:
1) Jellyfish lapel pins
2) Material: Zinc alloy
3) Size: 1.5" or custom size
4) Attachment: Rubbers or butterfly clutch
5) Production process: Die struck-polishing-black metal-soft enamel
6) Minimum order: No Minimum (No MOQ)
7) Sampling time: 7 days
8) Delivery time: 10-15 days for 100-5000pcs
9) Packaging: Each into a free poly bag
10)Payment Terms: T/T Western Union PayPal