Triceratops is a herbivorous dinosaur of the horned dragon family. The fossils were found in the Late Cretaceous Maastricht terraces of North America, about 68 million years ago to 65 million years ago. The Triceratops is one of the latest dinosaurs and is often used as a representative fossil of the Late Cretaceous. There are currently two effective species: the pleated triangle dragon and the triceratops. The triceratops is also one of the most famous dinosaurs and a very popular dinosaur in popular culture.
The Triceratops is a medium-sized four-legged dinosaur with a total length of 6-10 meters, a height of 2.4-2.8 meters, and a weight of 5-10 tons. They have very large head shields and three horns, reminiscent of modern rhinoceros (
rhinoceros lapel pins
). Traditionally these structures have been considered to be weapons against predators, but recent theories suggest that these structures may be used for courtship and to show dominance, like the horns of modern reindeer, goats, and unicorns. The most striking feature of the Triceratops is their horns and neck shields. Their head shield can be as long as more than 1.5 meters.
The triceratops lapel pins also only have the head like many other animal pins: 3D
wolf lapel pins
. The dark grey backgound color,yellow horn especially the three big horn on the head. The mouth is opening a little, colors yellow too. Also the tongue is outside, it's red. This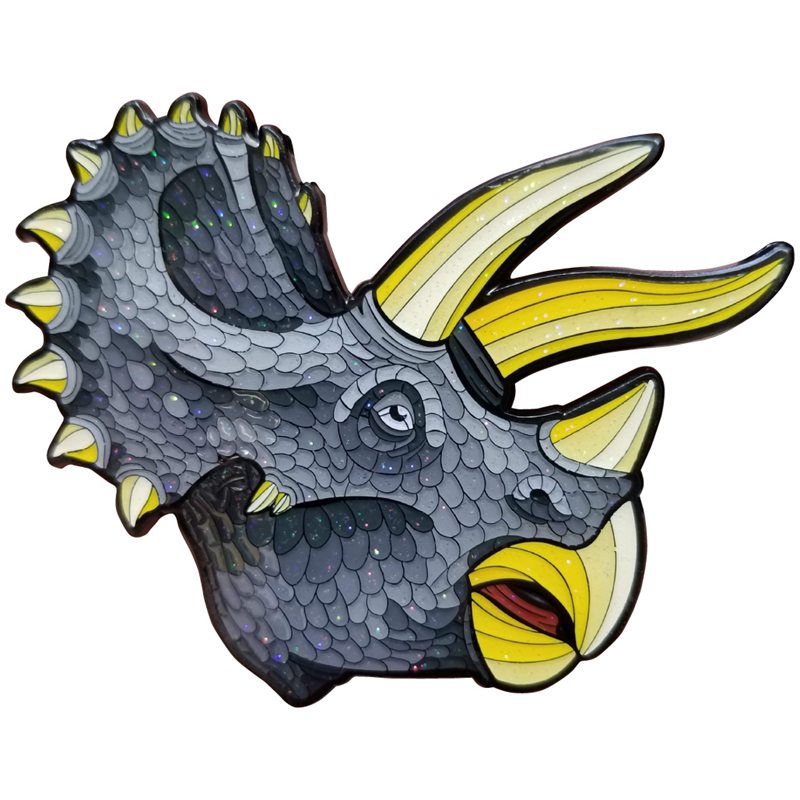 Here is the details:
1) Triceratops lapel pins
2) Material: Iron/bronze/zinc alloy
3) Size: 1.5" or custom size
4) Attachment: Rubbers or butterfly clutch
5) Production process: Die struck-polishing-black metal-soft enamel
6) Minimum order: No Minimum (No MOQ)
7) Sampling time: 7 days
8) Delivery time: 10-15 days for 100-5000pcs
9) Packaging: Each into a free poly bag
10)Payment Terms: T/T Western Union PayPal