Hippocampus is a sea animal that is a small marine animal with a length of 5-30 cm. Named for the bending of the head and the near right angle of the body, the head is in the shape of a horse's head and forms an angle with the body. The kiss is long tubular, small in mouth and one in the dorsal fin. Eyes can be independently active.The seahorse is slow, but it can efficiently capture the fast-moving, well-fed copepods in the Atlantic, Europe, Pacific, and Australia.
In natural waters, seahorses usually like to live in the slow-flowing of coral reefs. Because they are not good at swimming, they often use their tails that are suitable for grasping to closely outline the branches of corals and the leaves of seaweeds. Make it not washed away by the rapids. Male seahorses never really play with their children, but they are better than the human father in other respects - the offspring. The seahorse is the only animal on earth that has been born to males.
This seahorse have the magic color, several blue colors fill all the body, seems in the sea. Grey head and purple hat, long blue mouth. Glitter all the
soft enamel pins
. Very cute and lovely. It's a sea animal and here are more:
sea turtles laple pins
.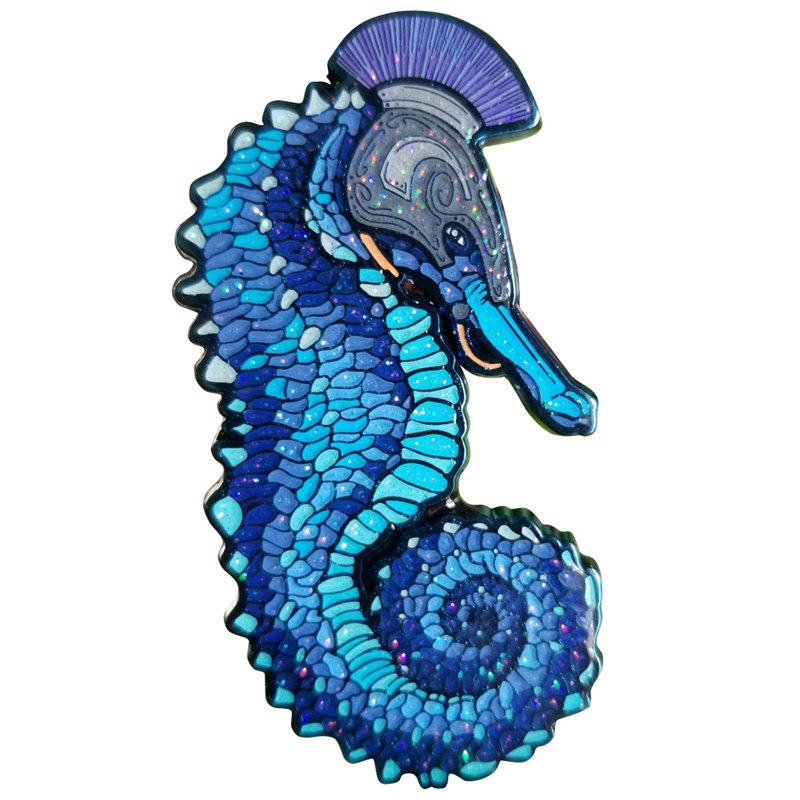 Here is the details:
1) Seahorse lapel pins
2) Material: Iron/bronze/zinc alloy
3) Size: 1.5" or custom size
4) Attachment: Rubbers or butterfly clutch
5) Production process: Die struck-polishing-black metal-soft enamel
6) Minimum order: No Minimum (No MOQ)
7) Sampling time: 7 days
8) Delivery time: 10-15 days for 100-5000pcs
9) Packaging: Each into a free poly bag
10)Payment Terms: T/T Western Union PayPal