The fox has flexible ears that can accurately locate the sound and sense the smell. The slender legs can run fast, and the top speed can reach 50km/h, so the fish, clams, shrimps, crabs, rodents, birds (
birds lapel pins
) and insects are mainly used. Small animals feed on food and sometimes eat some plants. The fox is divided into arctic fox, red fox, silver black fox, and sand fox. The character is timid and timid. The fox lives in a forest or grassland in a semi-desert hilly area and lives in a tree hole or a cave. The fox's eyes can adapt to the dark, the pupils are elliptical and shiny, similar to the cat's eyes.
The fox has a keen sense of sight, smell and hearing. Most foxes have a pungent taste and are released by the scent glands at the base of the tail. Red fox is the most widely distributed and most abundant species of fox. The blue fox, also known as the Arctic fox, is mainly distributed in the high latitudes of Eurasia and northern North America. Larvae are born from February to May each year, generally 3 to 6 per fetus. The fox is very vigilant. Mother foxes usually estrus and mate between February and May each year. The gestation period is about 51 to 52 days, and each baby may produce 6 to 8 babies.
This fox lapel pins only have the fox head, similar as the
red fox pins
. The mouth closed and eyes opened. Two ears with colorful skin. Yellow and dark yellow are spread all the head. Eyes are fire-eyed, black metal with complex colors. Little glitter in the soft enamel. Shinny and looks very comfortable.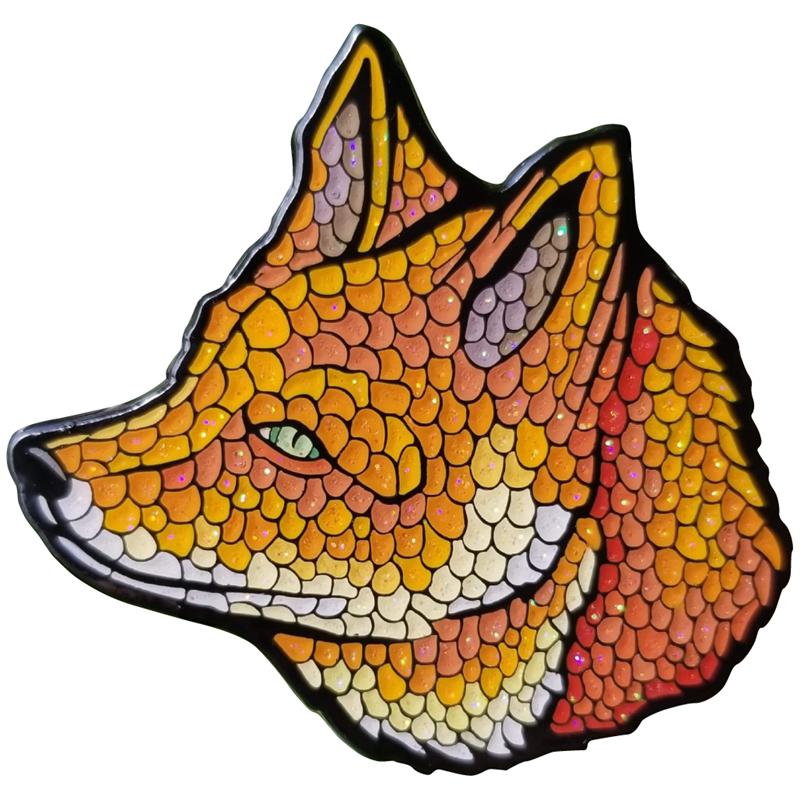 Here is the details:
1) Fox lapel pins
2) Material: Iron/bronze/zinc alloy
3) Size: 1.5" or custom size
4) Attachment: Rubbers or butterfly clutch
5) Production process: Die struck-polishing-black metal-soft enamel
6) Minimum order: No Minimum (No MOQ)
7) Sampling time: 7 days
8) Delivery time: 10-15 days for 100-5000pcs
9) Packaging: Each into a free poly bag
10)Payment Terms: T/T Western Union PayPal