There are more than 14,000 butterflies worldwide, most of which are distributed in the Americas, especially in the Amazon. The butterflies are generally colorful, with many stripes on the body, rich colors, various spots on the wings and body. The largest butterfly wings can reach 28 to 30 centimeters, and the smallest is only about 0.7 centimeters. The main difference between butterflies and moths is that the head of the butterfly has a pair of rod-shaped or hammer-like tentacles, and the moth has a variety of antennae shapes.
The colorful patterns on the wings of the butterflies are amazing, but their colorful wings are not only for the sake of people's eyes, but also for hiding, disguising and attracting spouses. Butterflies are completely metamorphosed insects, that is, they will go through four stages in their lifetime: eggs, larvae, pupa, and adults. The natural enemies of butterflies are: ants, beetles, birds (
birds lapel pins
), flies, lizards (
lizards lapel pins
), frogs, crickets, crickets, spiders, wasps, parasitic wasps, etc. Eighty-eight butterfly is a species of the family Papilio, distributed in South America, with more than 40 species. Named after the "8" pattern on the lower wings. He was once voted as one of the "Beautiful Butterflies in the World".
The butterfly pins below is not the same as
butterfly back pins
, butterfly back is the attachment for pins and used normally. This butterfly pins have the beautiful wings, two eyes on top wings and two eyes in the center body. Colorful and beauteous, two symmetrical wings, black metal and soft enamel pins.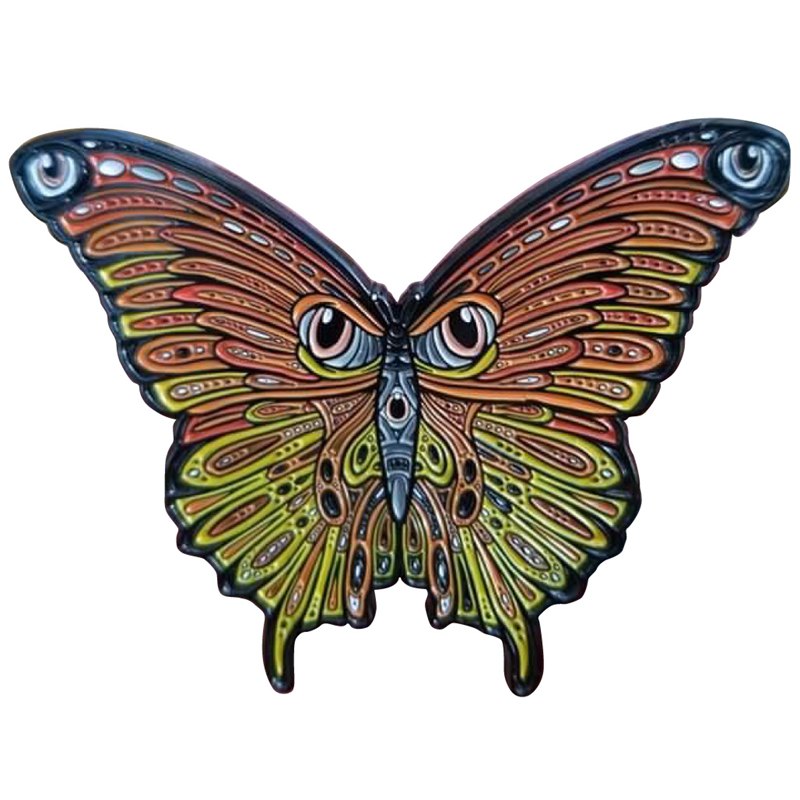 Here is the details:
1) Butterfly pins
2) Material: Iron/bronze/zinc alloy
3) Size: 1.5" or custom size
4) Attachment: Rubbers or butterfly clutch
5) Production process: Die stamping-polishing-black metal-soft enamel
6) Minimum order: No Minimum (No MOQ)
7) Sampling time: 7 days
8) Delivery time: 10-15 days for 100-5000pcs
9) Packaging: Each into a free poly bag
10)Payment Terms: T/T Western Union PayPal