The koala is Australia's national treasure, it's rare and precious primitive arboreal in Australia. The English name Koala bear comes from the ancient indigenous script, meaning "no drink". Because koalas get 90% of the water they need from the eucalyptus leaves they feed, only drink water when they are sick and dry.
. Koalas are not bears, and they are far apart.
It sleeps 18 hours a day and is the most sleepy animal in the world. The temperament is docile and the body is thick. In general, koalas are about 70 to 80 centimeters long, adult male koalas weigh between 8 and 14 kilograms, and females are 6 to 11 kilograms. Muscular, long and strong limbs, suitable for climbing between branches and supporting its weight. There are a pair of big ears, the ears are hairy, the nose is bare and flat, and there is no tail.
This koala lapel pins is colorful and cute. Only one eye and purple and blue ears. Two small hands hold 3 yellow,green and cyan leaves. Sitting and laughing, black metal with soft enamel technology. So lovely animal like
dog pins
and
cat lapel pins
.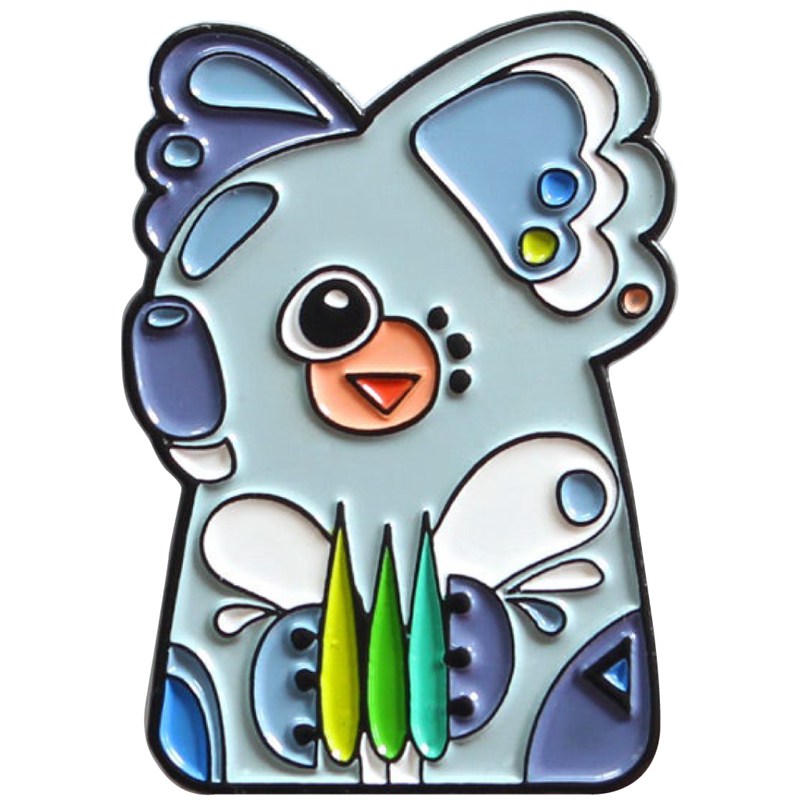 Here is the details:
1) Koala lapel pins
2) Material: Iron/bronze/zinc alloy
3) Size: 1.25" or custom size
4) Attachment: Butterfly clutch or rubbers (black,yellow or red)
5) Production process: Die struck-polishing-black metal-soft enamel
6) Minimum order: No Minimum (No MOQ)
7) Sampling time: 7 days
8) Delivery time: 10-15 days for 100-5000pcs
9) Packaging: Each into a free poly bag
10)Payment Terms: T/T Western Union PayPal