Giraffe is a ruminant cloven-hoofed animal that grows in Africa. The Latin name means "a leopard-like camel." They are the highest terrestrial animals in the world. The fur color pattern has spots and mesh type, the forehead is wide, the snout is sharp, the ears are erect, the head has a pair of short bone angles, the outer surface is covered with skin and hair; the neck is particularly long (about 2 meters) .
The giraffe is tall and strong, its forelimbs are slightly longer than the hind limbs, and the hooves are wide; the tail is short. The teeth are primitive low-crown teeth, which cannot be eaten mainly by grass. They can only be eaten mainly by leaves. The tongue is long and can be used for feeding. Living in the savannah of Africa, it is the national animal of South Africa. Giraffes have very little sleep time, usually only sleep for two hours at night, and most of the time they are standing on falsehoods. Because the neck is too long, they often lean their heads against the branches when they sleep, so that the neck is not too tired.
Giraffe head pins only have the head and little neck design different as the
giraffe lapel pin
, whole giraffe is so long and need big size to make. The background color is blue, purple color inside. A different giraffe than normal stripe. Black metal with soft enamel process, quickly producing if you need more pins.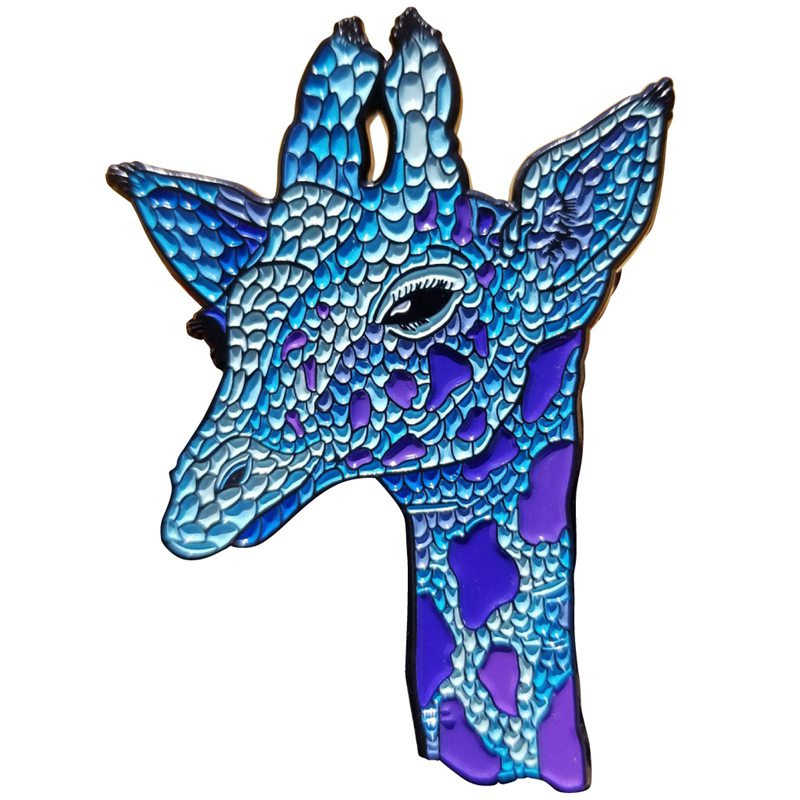 Here is the details:
1) Giraffe pins
2) Material: Iron/bronze/zinc alloy
3) Size: 1.5" or custom size
4) Attachment: Rubbers or butterfly clutch
5) Production process: Die casting-polishing-black metal-soft enamel
6) Minimum order: No Minimum (No MOQ)
7) Sampling time: 7 days
8) Delivery time: 10-15 days for 100-5000pcs
9) Packaging: Each into a free poly bag
10)Payment Terms: T/T Western Union PayPal