Giraffe camelopardalis is a ruminant cloven-hoofed animal that grows in Africa and is the highest surviving terrestrial animal in the world. Standing up to 6-8 meters from head to toe, weighing about 700 kg, 1.5 m tall newly born pups; fur color patterns are speckled and reticulate pattern, the head of the forehead wide, snout more pointed, ears Large erection; neck particularly long (about 2 meters); limbs tall and strong; tail is short, the tail is black tufts. Tooth is the original low crown, can not grass as the staple food, can only take the leaves as the staple food; tongue longer, can be used for feeding; short angle hairy skin cover.
Living in the African savannah zone, is a herbivore, with leaves and twigs as the staple food. In the wild giraffe's life expectancy is about 27 years, the zoo can live more than 29 years. Mainly in Africa, South Africa, Ethiopia, Sudan, Kenya, Tanzania and Zambia and other countries. South Africa's national animal (
South Africa lapel pins
).
Giraffe long neck and long legs, is also a good "cooling tower." They live in the hot savanna and are well adapted to the environment because of their large surface area, which facilitates the distribution of heat. Lung capacity is also large, conducive to breathing fresh air, exhaust emissions. Because of the long legs, giraffe is very inconvenient when drinking water. They need to fork their foreleg or kneel to drink water, and are very vulnerable to attack by other animals when drinking water, so gregarious giraffes often do not drink water together.
The giraffe lapel pins have the light brown surface, gold metal body. The hoof are red, black eyes. Standing so tall and looking ahead to, seems so peace and kind, you will like it. This is the ainimal pins, here are more:
goldfish lapel pins
and
birds lapel pins
.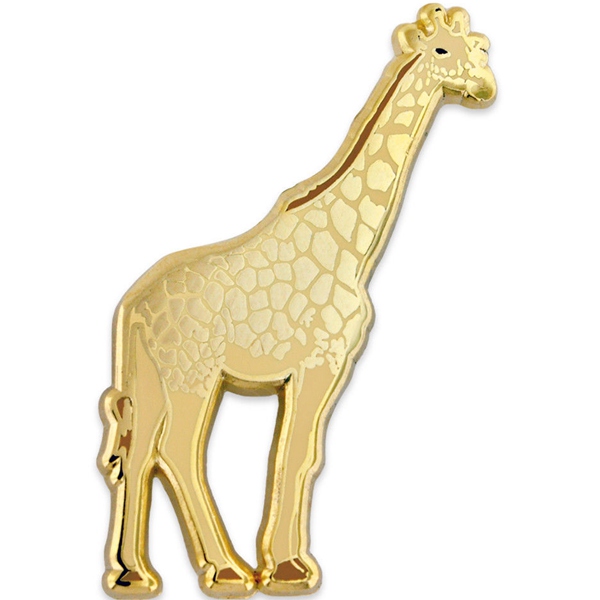 Below is the details:
1) Giraffe lapel pins
2) Material: Zinc alloy
3) Size: 1.25" or custom size
4) Attachment: Butterfly clutch or rubbers
5) Production process: Die casting-polishing-hard enamel-gold plating
6) Minimum order: No Minimum (No MOQ)
7) Sampling time: 7 days
8) Delivery time: 10-15 days for 100-5000pcs
9) Packaging: Each into a free poly bag
10)Payment Terms: T/T, Western Union, Paypal