Sicily belongs to the Sicily region of the Italian (
Italian flag pins
) Republic. It covers an area of 25,700 square kilometers and has a coastline of 1,484 kilometers. It is the largest island in the Mediterranean with a population of about 5 million. Located in the south of Italy, it is shaped like a triangle. The island is hilly and has a typical Mediterranean climate. It is warm and humid in winter and hot and dry in summer. Sicily has always been considered a strategically important place in history. It is vast and rich, with a warm and beautiful climate, rich in citrus, lemon and olive oil. Historically known as the "Golden Basin."
It is one of the "pearls" of southern Italy, mountains, hills, and most importantly the incredible colors of the Mediterranean, crystal clear waters and beautiful sea beds. Here, many small islands on the Mediterranean Sea, scattered on the coast of Sicily, give it a unique and dense natural landscape, atmosphere and flavor, and it has never been contaminated. The highest mountain in Sicily is Mount Etna (3323 m), which is also the largest and most active volcano in Europe.
The Sicily lapel pins have the beautiful land in Sicily, green land, brown mountain and white active volcano Mount Etna and some orange fruit. Famous building. Whole pins have the blue round background with "LAND TOUR", bottom left have the circle "INNBR","CIRCLB" and "GCI". Long words:"GRAND CIRCLE TRAVEL". This is similar
California lapel pins
.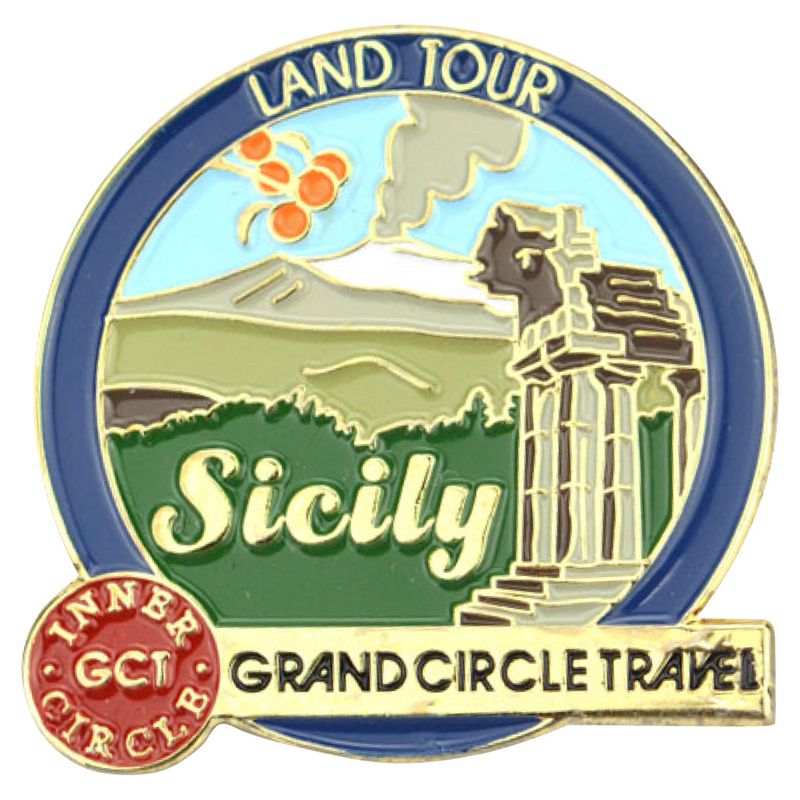 Here is the details:
1) Sicily lapel pins
2) Material: Iron/bronze/zinc alloy
3) Size: 1.25" or custom size
4) Attachment: Rubbers or butterfly clutch
5) Production process: Die stamping-polishing-gold plating-soft enamel
6) Minimum order: No Minimum (No MOQ)
7) Sampling time: 7 days
8) Delivery time: 10-15 days for 100-5000pcs
9) Packaging: Each into a free poly bag
10)Payment Terms: T/T Western Union PayPal