The bear is gentle usually, but when provocative or in danger, it is easy to get angry and fight very fiercely. Although the average person regards the bear as a dangerous animal, it is quite popular in the circus or zoo. The bear can be divided into 4 genera: lazy bear, spectacles, Malay genus, and bear. Most bears are very heterozygous. They eat grass, twigs, moss, berries and nuts. They also catch frogs (
frog lapel pins
), crabs and fish (
fish lapel pin
) by the stream, dig out rodents, pick up eggs, prefer to eat ants, steal Honey, even attacking small deer, sheep or eating carrion. But polar bears are special, mainly eating fish and seals. The bear's vision and hearing are not very sensitive, but the sense of smell is very developed.
What should I do if I encounter a bear? First of all, don't think about turning around and running, you can't run the bear. Second, don't yell at the loud noises. When encountering a bear, face it face-to-face, try to suppress the fear in your heart, and stare at its eyes with a sinful look; stand up straight, raise your head, raise your hands, open your legs, and you can lift your toes. All in all, you have to do everything you can to make yourself look taller and bigger.
This bear lapel pin is the cartoon pins. He hold the logo which cut out. Silver metal plating with soft enamel process, red cap black hair and brown pink. Cute smile with white tooth and pink tongue. Here is the big
lion lapel pin
.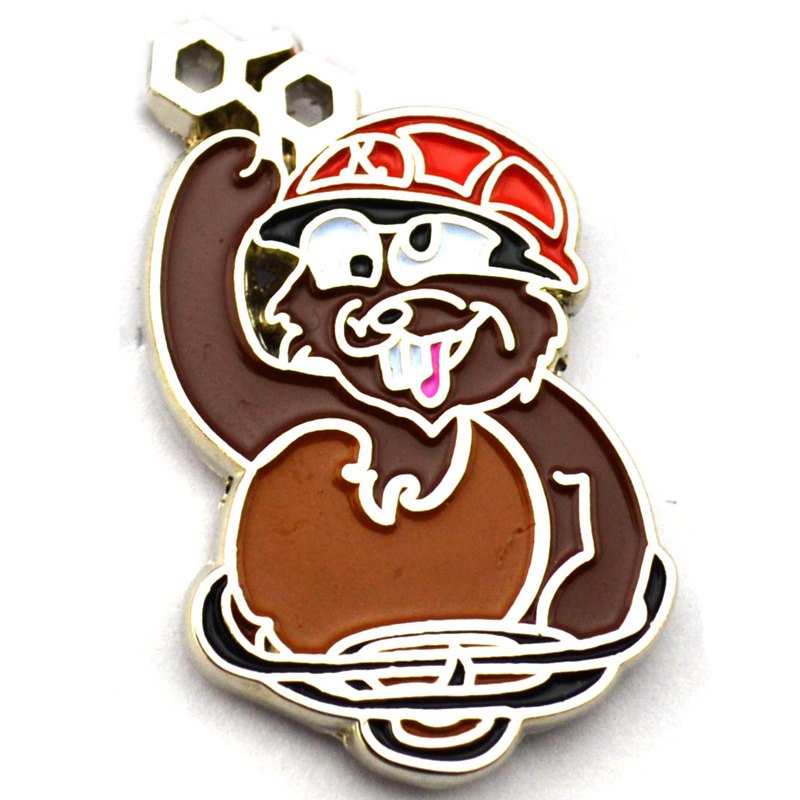 Here is the details:
1) Bear lapel pins
2) Material: Iron/bronze/zinc alloy
3) Size: 1.25" or custom size
4) Attachment: Rubbers or butterfly clutch
5) Production process: Die stamping-polishing-silver plating-soft enamel
6) Minimum order: No Minimum (No MOQ)
7) Sampling time: 7 days
8) Delivery time: 10-15 days for 100-5000pcs
9) Packaging: Each into a free poly bag
10)Payment Terms: T/T Western Union PayPal