The rhinoceros is the world's largest hoofed animal. The rhinoceros has short legs and awkward body. The body length is 2.2-4.5 meters, the shoulder height is 1.2-2 meters, and the body weight is 2000-5000 kilograms. The front and rear limbs are three-toed; the skin is rough, the ears are oval, the head is large and long, the neck is short and thick, the long lips are extended and extended; the head has solid one-horn or double-angle (some females have no horns); Canine teeth; short tail, body yellow, brown, black or gray. Rolling is very important for the rhinoceros. Rhinoceros rolling in the leeches is an effective way to prevent mosquito bites. At the same time, it can keep his body cool.
Rhinos inhabit lowlands or highlands over 2,000 meters above sea level. Night activities, living alone or forming small groups. The living area never leaves the water source. The feeding habits vary from species to species, mainly grasses, or leaves, twigs, wild fruits, lichens, etc. Life expectancy is 30-50 years. Due to the decorative and medicinal value of the rhinoceros horn, it is captured in large quantities, except for the white rhinoceros, which are endangered species. Distributed in southern Asia, Southeast Asia and sub-Saharan Africa. September 22 is "World Rhino Day".
This rhinoceros lapel pin making the black metal,
soft enamel
colors filled. Only the head design with two ears, the big mouth. Two special yellow rhinoceros horns. Dark grey background and little white color in. It's likes the real one. More big animal pins are:
lions lapel pins
and
bear lapel pins
.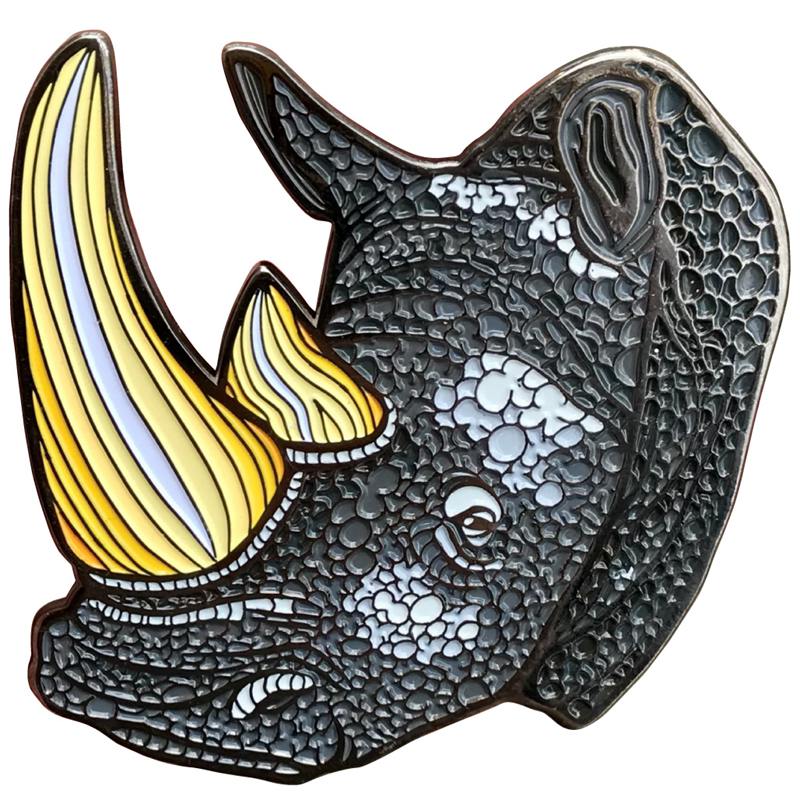 Here is the details:
1) Rhinoceros lapel pins
2) Material: Iron/bronze/zinc alloy
3) Size: 1.5" or custom size
4) Attachment: Rubbers or butterfly clutch
5) Production process: Die stamping-polishing-black metal plating-soft enamel
6) Minimum order: No Minimum (No MOQ)
7) Sampling time: 7 days
8) Delivery time: 10-15 days for 100-5000pcs
9) Packaging: Each into a free poly bag
10)Payment Terms: T/T Western Union PayPal