A hinge is a mechanical device that connects two solids and allows relative rotation between the two. The hinge may be constructed of a moveable component or of a foldable material. The hinges are mainly installed on the doors and windows, and the hinges are more installed on the cabinets. The materials are mainly divided into stainless steel hinges and iron hinges. In order to make people enjoy better, hydraulic hinges (also called damping hinges) appear. It is characterized by a buffer function when the door is closed, which minimizes the noise generated by the collision with the cabinet when the door is closed.
Materials are zinc alloy, steel, nylon, iron, stainless steel. The surface treatment includes powder spraying, galvanized alloy, galvanized steel, sand blasting, chrome-plated zinc alloy, nickel-plated steel, wire drawing and polishing. According to the type of base, it is divided into two types: detachable and fixed type; according to the type of arm body, it is divided into two types: sliding and card type.
This hinged lapel pins have one simple hinge, left and right and a door. It has three designs: top one is the front shape with door, window, abat vent and two potted flower. You can see four magnets when open this door. Left also the cat three layers house. Right one are different lives with cats. Light blue background with colorful designs. More functional lapel pins are:
LED lapel pins
and
compass lapel pins
.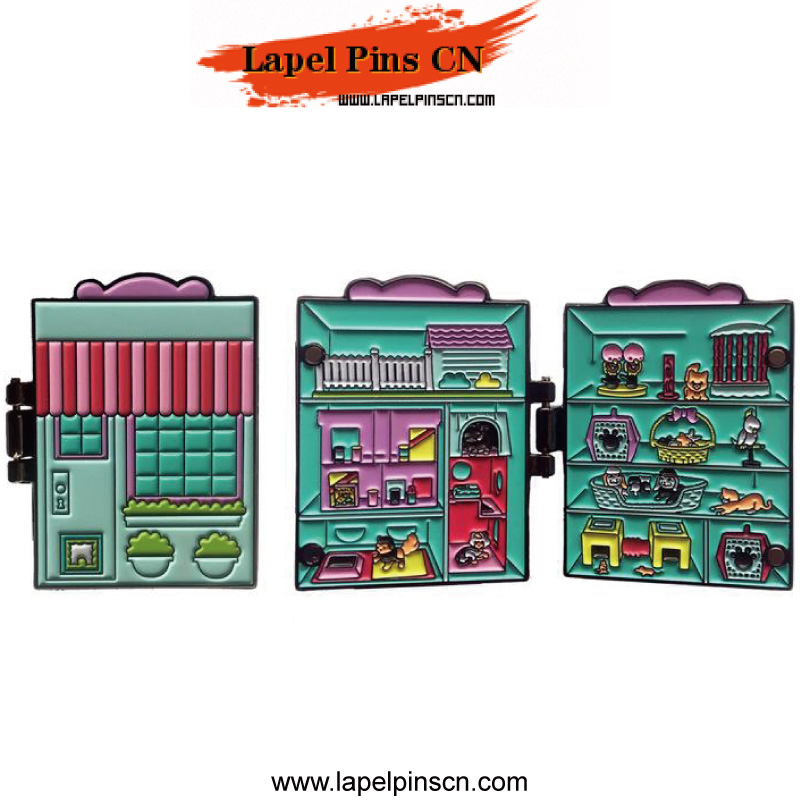 Here is the details:
1) Hinged lapel pins
2) Material: Zinc alloy
3) Size: 1.75" or custom size
4) Attachment: Rubbers or butterfly clutch
5) Production process: Die casting-polishing-black metal-soft enamel
6) Minimum order: No Minimum (No MOQ)
7) Sampling time: 7 days
8) Delivery time: 10-15 days for 100-5000pcs
9) Packaging: Each into a free poly bag
10)Payment Terms: T/T Western Union PayPal