The walrus is an elephant in the sea. It has a large body, thick and wrinkled skin, sparse bristles, small eyes and poor eyesight. There are two long teeth. Unlike the elephant with big fat ears, long nose and thick limbs on the land, its limbs have been degenerated into fins due to adaptation to life in the water. They cannot walk on land like elephants, only relying on the rear fins. Bending forward, and the joint effect of the fangs into the ice, can advance on the ice, and its nose is short, lacking the ear shell, looks very ugly. Walruses mainly live in the temperate waters of the Arctic or near the Arctic.
Walrus is a group of animals that live an amphibious life in icy waters and on land ice, ranging from tens of hundreds to hundreds of thousands. In order to restore fatigue after long-term swimming in the ocean, most of the time on land is sleeping and resting, sometimes walking with fangs and shorter hind legs, it is very clumsy and funny.
This Walrus lapel pin has the colorful skin, white long tooth, small eyes hard to find. The back have the strange coral, also other marine plankton. Small and chaotic lines, with rainbow colors. Body have the pink, orange, yellow, green, blue, purple colors. More sea animal pins are
seahorse lapel pins
and
sea turtles lapel pins
.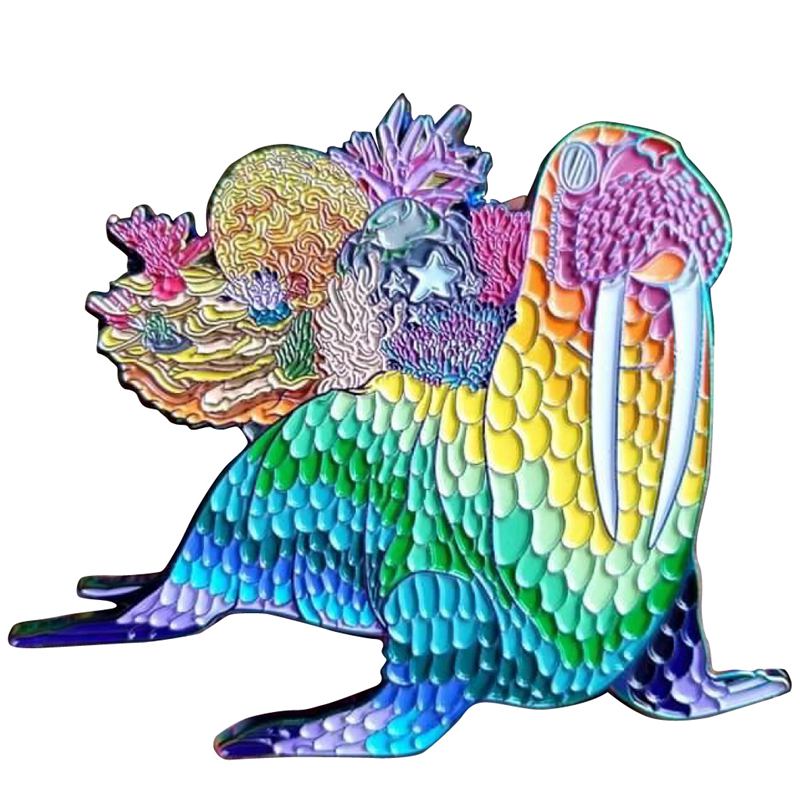 Here is the details:
1) Walrus lapel pins
2) Material: Iron/bronze/zinc alloy
3) Size: 1.25" or custom size
4) Attachment: Rubbers or butterfly clutch
5) Production process: Die casting-polishing-black metal-soft enamel
6) Minimum order: No Minimum (No MOQ)
7) Sampling time: 7 days
8) Delivery time: 10-15 days for 100-5000pcs
9) Packaging: Each into a free poly bag
10)Payment Terms: T/T Western Union PayPal