SUV refers to a sports utility car, which is different from the ORV (off-Road Vehicle abbreviation) that can be used on rough terrain. The SUV is called a sport utility vehicle, or a suburban utility vehicle, which is a utility vehicle. The space function, coupled with the off-road capability of the truck. The SUV is the comfort of a luxury sedan plus the nature of an off-road vehicle.
The SUV is characterized by strong power, off-road, spacious comfort and good load and passenger functions. The SUV is a mixed-race descendant of cars and off-road vehicles. The SUV's space performance is excellent, and you can sit in the car in both the front and the back. The SUV boom was first extended from the United States, not only in Europe and the United States, but also in the Asian, Japanese and Korean car manufacturers began to develop SUV models. The SUV's high space and off-road capabilities have replaced the station wagon as the main vehicle for leisure travel. The SUV became the most popular car at the time.
This SUV lapel pin have big 4 black wheels, seems same height with the SUV. Four lines around the car, so long touch the ground. All SUV only have the black color, gold metal, the car body making the colorful glitter. Words: "D-30 CA", the lights are yellow and white. Cute design and here are more car pins:
car keychains
and
Cadillac lapel pins
.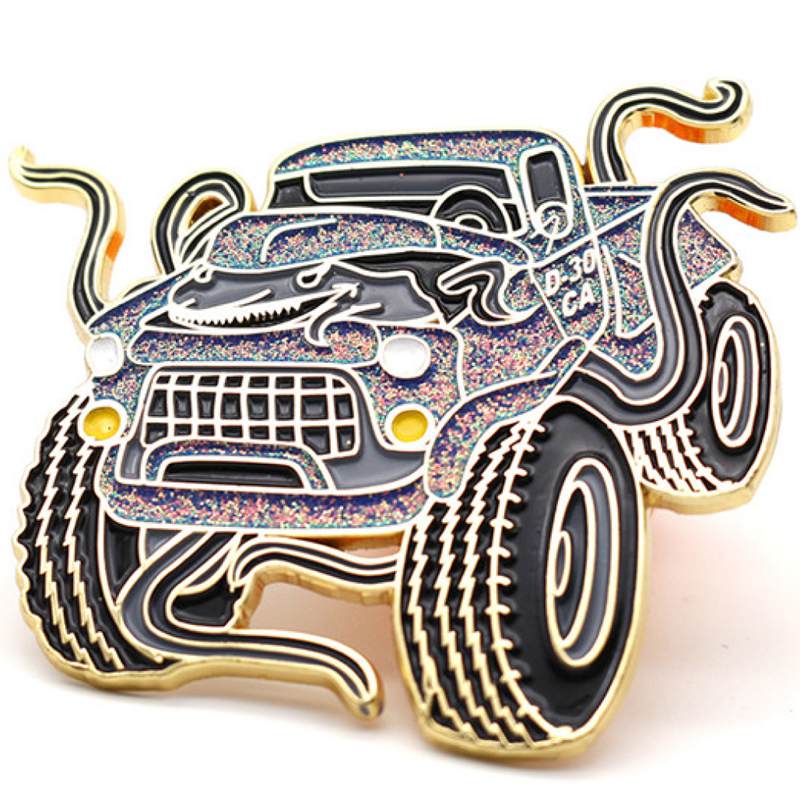 Here is the details:
1) SUV lapel pins
2) Material:Zinc alloy
3) Size: 1.5" or custom size
4) Attachment: Rubbers or butterfly clutch
5) Production process: Die casting-polishing-black metal-soft enamel
6) Minimum order: No Minimum (No MOQ)
7) Sampling time: 7 days
8) Delivery time: 10-15 days for 100-5000pcs
9) Packaging: Each into a free poly bag
10)Payment Terms: T/T Western Union PayPal