Sharks belong to vertebrates, marine, and a few species enter fresh water. They are a group of medium and large marine fish with fast speed. The shark's inner skeleton is completely composed of cartilage, often calcified, but without any real bone tissue, exoskeleton is not well developed or degraded. Diversified teeth. Recent research shows that sharks contain a variety of biologically active ingredients such as anti-cancer factors, squalene, mucopolysaccharides and so on. In China, shark cartilage extract, shark liver oil, etc. have long been used to treat diseases such as cancer.
80% of sharks are less than 1.6m in length, and most sharks are small fish. The largest shark in the shark is called whale, which is 20m long and weighs 7000-8000kg. It is the king of the fish. The smallest is the wide-tailed small shark, the mature male 15cm, the female 20cm, and the size of the shark. More than 100 times. It has been found that the Tertiary strata fossil species of macrophary sharks have a tooth length of 15.24 cm and an estimated body length of up to 90 m, which can accommodate 6 people standing in the mouth. Sharks are almost all carnivorous species, and only a few species such as whale sharks and basking sharks feed on plankton.
This terrible shark lapel pins is not nice, he open his mouth, so many white tooth are spread, seems it can be eat a cow. Around are the water splashed, huge spindrift means it's a giant shark. The water are blue colors, center shark have the black eye and grey skin. Here are more sea animal pins:
seahorse lapel pins
and
sea turtles lapel pins
.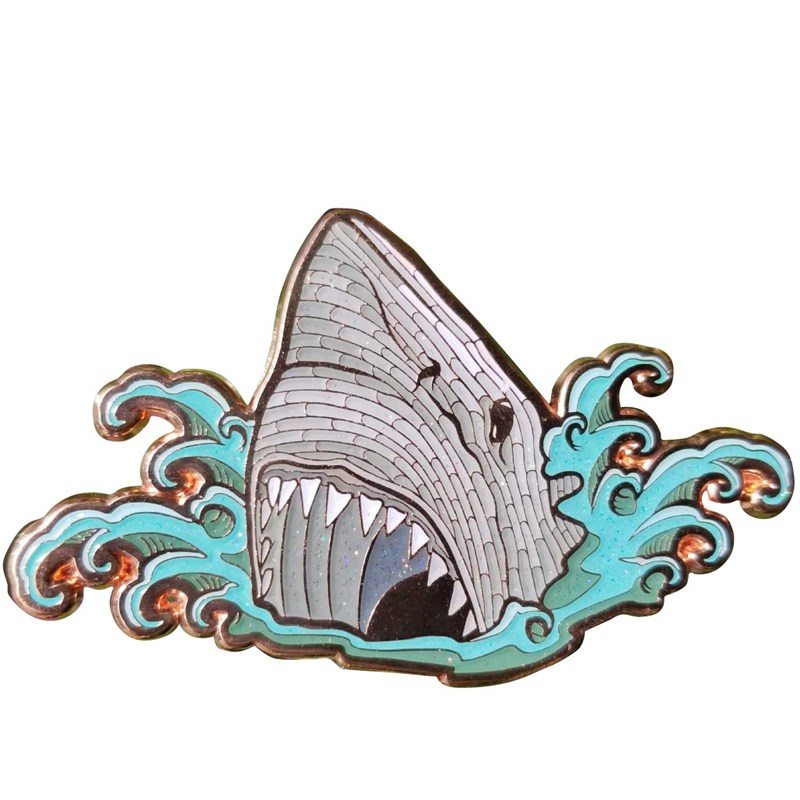 Here are the details:
1) Shark lapel pins
2) Material:Zinc alloy
3) Size: 1.5" or custom size
4) Attachment: Rubbers or butterfly clutch
5) Production process: Die casting-polishing-copper plated-soft enamel
6) Minimum order: No Minimum (No MOQ)
7) Sampling time: 7 days
8) Delivery time: 10-15 days for 100-5000pcs
9) Packaging: Each into a free poly bag
10)Payment Terms: T/T Western Union PayPal