The rib is a curved small bone, one end of which is connected to the sides of the spine of the trunk. The wall of the road is curved toward the exhibition surface, and the other end is in the state of meat or connected to the sternum in the center of the chest. The ribs of fish. The end of the city is connected to the vertebrae, and the thigh is free. In the higher vertebrates, the ventral ends of the ribs are connected to the sternum to form a chest. The chest protects the heart and lungs and enhances breathing.
The sternum is a long flat bone with a wide upper and lower width and is located subcutaneously in the middle of the anterior wall of the thorax. The upper part and the two sides of the sternum are respectively connected with the clavicle and the upper 7 pairs of costal cartilage. The sternum is in the natural position of the human body, approximate to the frontal position, slightly obliquely forward and downward, the front is slightly convex, and the back is concave. From top to bottom, the sternum, sternum and xiphoid are three parts, and the three parts are combined by cartilage. . The deformity of the sternum is called "chicken chest", and the deformity of the depression is called "funnel chest". Both of these malformations are generally caused by the lack of vitamin D and calcium.
This is the rib lapel pins and sternum lapel pin. It's a whole construction, connected each other. Rib surround two heart, left atrium and right atrium. In this pin two big red heart looks very warmly. Other colors are black and white. Very interting body pins like
hands pins
.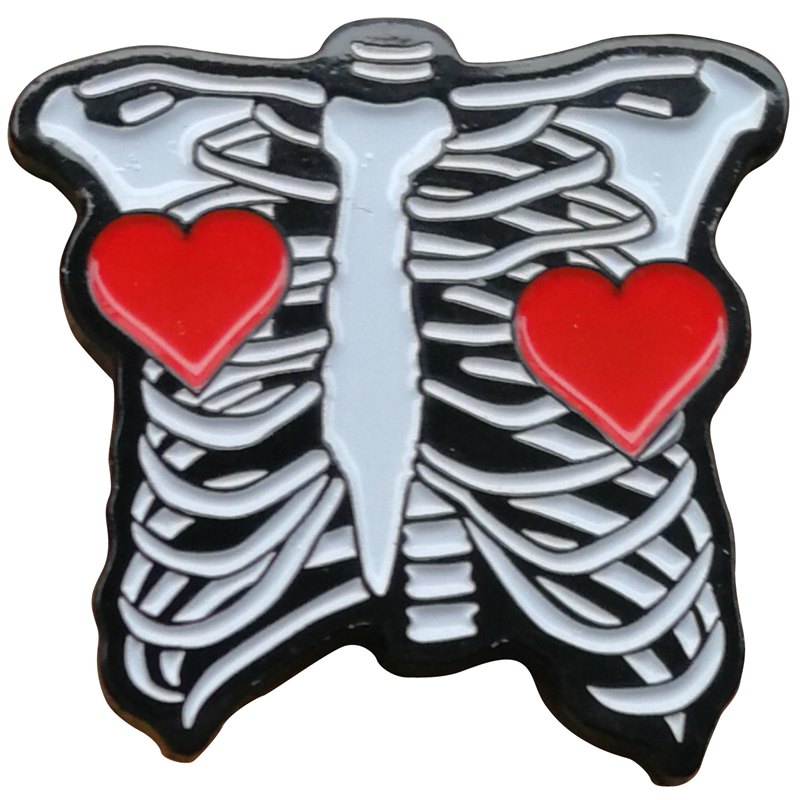 Here is the details:
1) Rib lapel pins
2) Material: Iron/bronze/zinc alloy
3) Size: 1.5" or custom size
4) Attachment: Rubbers or butterfly clutch
5) Production process: Die struck-polishing-black metal-soft enamel
6) Minimum order: No Minimum (No MOQ)
7) Sampling time: 7 days
8) Delivery time: 10-15 days for 100-5000pcs
9) Packaging: Each into a free poly bag
10)Payment Terms: T/T Western Union PayPal