Hand is part of a human or other primate arm front end. The five fingers and the palm of the composition, is mainly used to catch and hold something, symmetrical and two hands mirror each other. Most people have one each in left and right, there are five fingers on each hand. The fingers have fingernail, long or short. The center of the palm have palm print.
Each inwardly curved fingers and swing slightly so. Humans make different gestures through curved fingers, including fingers clenched fist, raised his index finger and middle finger of the V-sign and give the middle finger of indecent gestures and so on.
Hand is one of the most distinctive organs of the human body's. Scientists believe that the hand is one of the three most important organs of people can have a high degree of intelligence, the other two organs could feel the three-dimensional space of eye and can handle eye-hand information coming from the brain. 400 million years of evolutionary history, humans have evolved hand became the perfect tool that can be created by the nature.
Here we take the hands lapel pins: perfect shape with five fingers, two hand connected with index finger. Also with some small details in hand. Nickel silver plating, back blank with sandy effect. Simple with no works on it, but black soft enamel.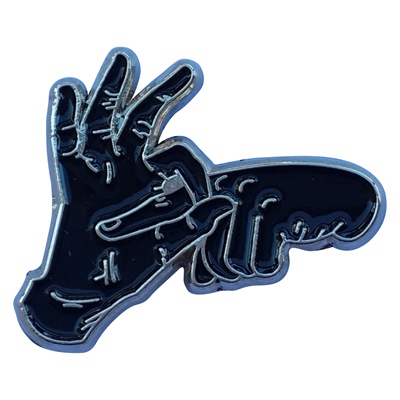 Below is the detailed specification:
1) Hands lapel pins
2) Material: bronze
3) Size: 1.25" or custom size
4) Attachment: Gold Butterfly clutch
5) Production process: Die stamping-polish-antique gold plating-soft enamel
6) Minimum order: No MOQ
7) Sampling time: 7 days
8) Delivery time: 8-15 days for 100-10000pcs
9) Packaging: Each into a free poly bag
10)Payment Terms: T/T, Western Union, Paypal