Swimming is the ability of people to float upwards under the buoyancy of water, and to exercise regularly in the water by buoyancy through the regular movement of the limbs. Swimming can be divided into competitive swimming and practical swimming. Competitive swimming is the second largest in the Olympic Games. It includes four strokes: butterfly stroke, backstroke (also known as back swimming), breaststroke and freestyle. Racing projects, as well as synchronized swimming. Swimming is one of the sports that both men and women love.
With the development of swimming, swimming is divided into two categories: practical swimming and competitive swimming. Practical swimming is divided into side swimming, snorkeling, anti-frog swimming, treading, ambulance, etc.; competitive swimming is divided into breaststroke, crawling, backstroke, butterfly, freestyle. The grades are: Level 3, Level 2, Level 1, master sportsman and International master sportsman.
The swimming lapel pins are the cartoon
lapel pins
, the woman swimming like a breaststroke style. The blue bathing suit, orange swimming cap, no other decoration to keep swim safety. Black nickel plating with soft enamel.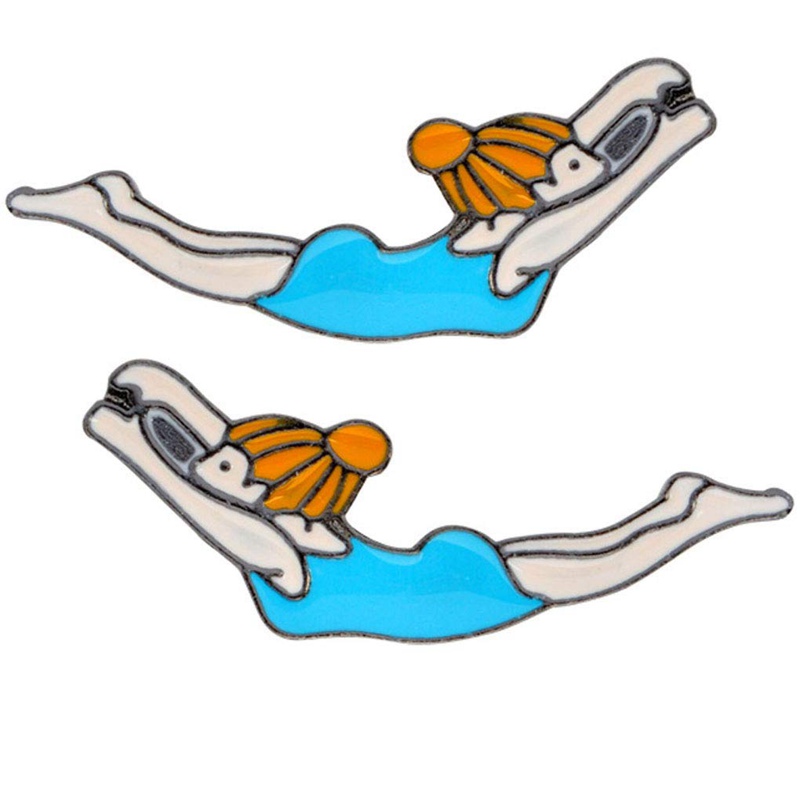 Here are the details:
1) Swimming lapel pins
2) Material: Zinc alloy
3) Size: 1.5" or custom size
4) Attachment: Rubbers or butterfly clutch
5) Production process: Die casting-polishing-black nickel plating-soft enamel
6) Minimum order: No Minimum (No MOQ)
7) Sampling time: 7 days
8) Delivery time: 10-15 days for 100-5000pcs
9) Packaging: Each into a free poly bag
10)Payment Terms: T/T Western Union PayPal