The film "Joker" is based on the DC comic character of the same name clown (
batman clown pins
) and was released by Warner Bros. Released on October 4, 2019. The story of the film will be independent of DCEU. The story background is set in the 1980s. It tells the story of a life-stricken talk show comedian who has gradually turned into a spiritual collapse and started a crazy criminal career in Gotham City. It became the story of Batman's old enemy "Joker".
The film was directed by Todd Phillips, the director of The Hangover, who wrote the screenwriter with the Scott Silver. Jacques Fenix ​​plays the protagonist "Joker" in this film. Other stars include Robert De Niro, Shake Bates, Mark Malone and more. "Joker" has been described by the industry as a bold and independent film. The main role of Batman's mortal enemy is valuable in social commentary and very interesting. It is not a partic action, nor does it have a clear subjective intention and purpose, but a film that is thought-provoking and has the character of character.
The Joker lapel pins have the half body portrait, wear a white shirt name "DENT", the orange clothes inside. Green and black air with a clown face. Looks terrible and funny. Black metal lines with big black eyes shadow. Clean enamel filled. More person lapel pins are:
Lincoln pilgrimage pins
and
cartoon boy lapel pins
.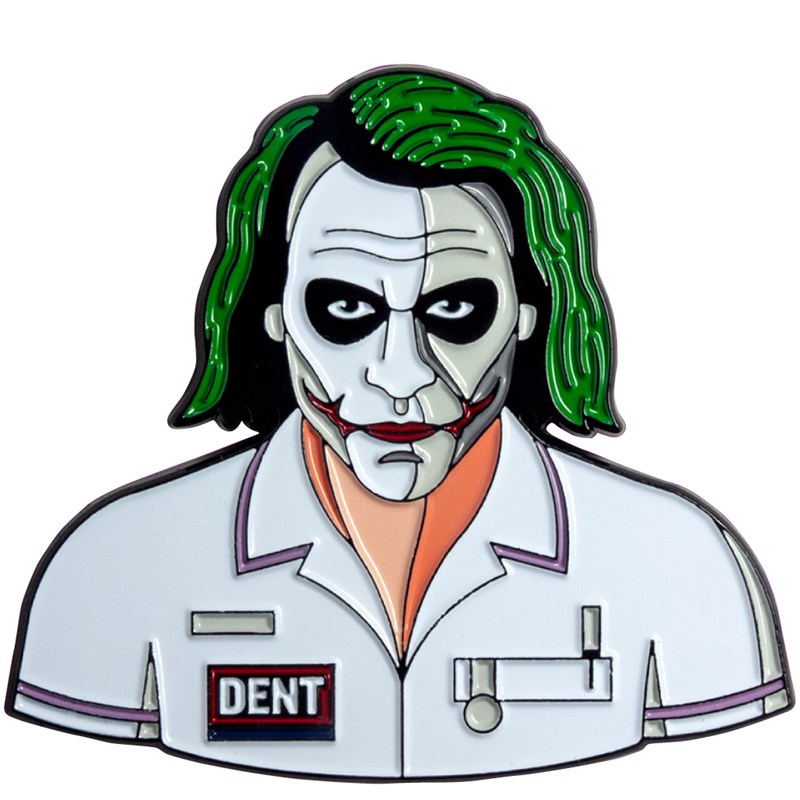 Here are the details:
1) Joker lapel pins
2) Material: Zinc alloy
3) Size: 1.5" or custom size
4) Attachment: Rubbers or butterfly clutch
5) Production process: Die casting-polishing-dyed black-soft enamel
6) Minimum order: No Minimum (No MOQ)
7) Sampling time: 7 days
8) Delivery time: 10-15 days for 100-5000pcs
9) Packaging: Each into a free poly bag
10)Payment Terms: T/T Western Union PayPal