The tiger is a large cat, the coat is light yellow or brownish yellow, covered with black stripes; the head is round and the ears are short, and there is a white spot in the center; the limbs are strong and strong; the tail is thick and long. Tigers are typical mountain forest animals. Tigers often work alone. Only during the breeding season are males and females living together. There are no fixed nests, and more wandering in the mountains. Can swim.
During the estrus, the tiger's voice was particularly loud and could reach 2 kilometers. About 105 days of gestation, each 1-5 babies, usually 2 babies, newborn tigers weigh about 1 kg, lactation 5-6 months, female tigers and cubs live together for 2-3 years, the life of the tiger is generally 20-25 years. Tigers have become rare and endangered species due to human hunting and fragmentation of wild habitats. The tiger's finest attacking weapons are thick teeth and retractable claws. Predatory is extremely fierce, rapid and decisive, with the principle of consuming the least amount of energy to obtain the greatest possible harvest. Tigers are listed in the Washington Convention CITESI class to protect animals.
The tiger lapel pins have two head designs, top one is front, the red face, open the big mouth, black hair and beard, it's black nickel plating with hard enamel technology. The bottom one have the side design, the yellow face, blue eyes and red mouth too. But it's a soft enamel technology. Different enamel pins but same tiger pins. Here is the
lion lapel pins
.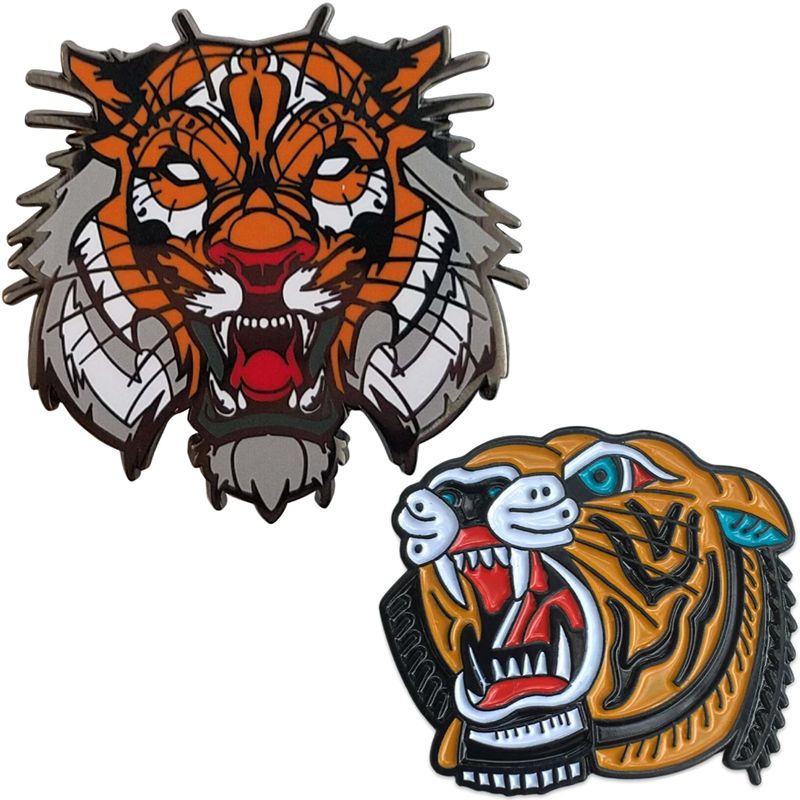 Here are the details:
1) Tiger lapel pins
2) Material: Iron/bronze/zinc alloy
3) Size: 1.25" or custom size
4) Attachment: Rubbers or butterfly clutch
5) Production process: Die struck-polishing-black dyed-soft enamel
6) Minimum order: No Minimum (No MOQ)
7) Sampling time: 7 days
8) Delivery time: 10-15 days for 100-5000pcs
9) Packaging: Each into a free poly bag
10)Payment Terms: PayPal,T/T or Western Union