Sloth is a mammal. The shape is slightly like a monkey (
monkey lapel pins
), and the movement is slow. The commonly used claws are hung upside down on the branches for several hours without moving, so it is called a sloth. The sloth is a wild animal with algae, lichens and other plants. Although it has feet, it can't walk. It relies on the forelimbs to drag the body forward. Distributed in South America. The hair is fluffy and long; the head is short, the ear is small and hidden in the hair; the tail is short; the whole body is grayish brown because the body hair is attached with algae, and the appearance is green.
Inhabiting trees all year round, hooking the branches with their claws and hanging up the body, and moving on the trees, can prevent the attack of carnivores, the natural enemies are pythons and raptors. The sense of smell is sensitive, and the sense of sight and hearing is not very developed. Nocturnal, feeding on leaves and fruits. Produced in tropical forests and distributed in South America.
The sloth are so lazy, even do not move when danger. This sloth lapel pins are so cute, he climbing a cactus (
cactus lapel pins
), it's impossible in the life. But this sloth pin designed a interesting one, his hair are white, some black dot on the body. The cactus are so big. Top has a little white star, it's hard enamel process with black nickel plating.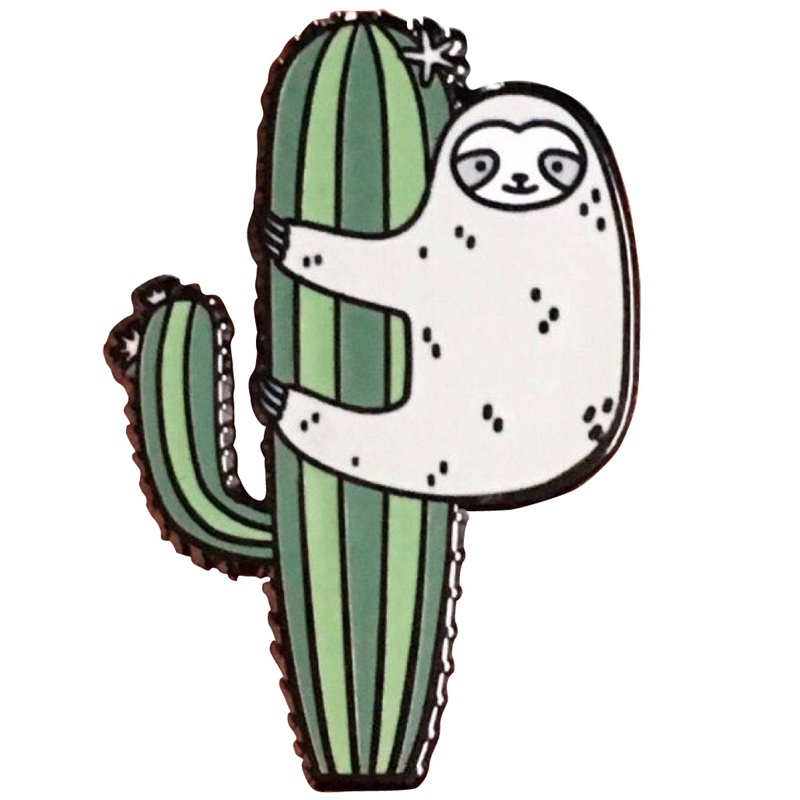 Here are the details:
1) Sloth lapel pins
2) Material: Zinc alloy/pewter alloy
3) Size: 1.5" or custom size
4) Attachment: Rubbers or butterfly clutch
5) Production process: Die casting-polishing-hard enamel-black nickel
6) Minimum order: No Minimum (No MOQ)
7) Sampling time: 7 days
8) Delivery time: 10-15 days for 100-5000pcs
9) Packaging: Each into a free poly bag
10)Payment Terms: PayPal,T/T or Western Union