A cactus is a plant of the genus Cactus, for the cactaceae plants. Cactus is a fleshy bush, the upper part of the branch broadly obovate, elliptic or suborbicular; obovate obovate; seeds mostly oblate, margin slightly irregular, glabrous, pale brown. Cactus hi strong light, resistant to heat, drought, infertility, tenacious vitality, growth temperature is 20-30 ℃. Mainly in the southern and southeastern coastal areas of the United States, the West Indies, Bermuda and northern South America, South China and Southeast Asia and other tropical and subtropical regions of arid regions.
There are 70-110 genera and more than 2000 kinds of cacti in the world. They can be divided into: cactus, cactus, cactus, cactus, and cactus. Often grown in the desert and other dry environment, known as the "desert hero flower", for a class of meaty plants. Cactus breeding hi strong light, resistant to heat, drought, barren, tenacious vitality, extensive management, it is suitable for cultivation in the family balcony. Mexico has the "cactus of the country" name. Cactus is the national flower of Mexico (
Mexico flag pins
).Cactus plants around the world have more than 2000 kinds, of which more than half of the production in Mexico.
This cactus lapel pin is made with zinc alloy, gold plating, soft enamel. One signal cactus standing in the salver, no in the desert, it's pot culture. This pin is close to real for the small stab are made round the cactus, blue-green colors filled. The salver is pink and orange color with cartoon design. Here are more plant pins:
maple leaf pin
and
flower lapel pins
.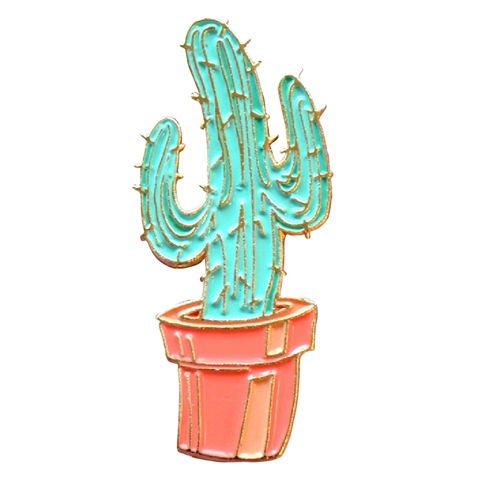 Below is the detailed specification:
1) Cactus lapel pin
2) Material: zinc alloy
3) Size: 1" or custom size
4) Attachment: Butterfly clutch
5) Production process: Die casting-plating-soft enamel
6) Minimum order: No MOQ
7) Sampling time: 7 days
8) Delivery time: 12-18 days for 1000-5000pcs
9) Packaging: Each into a free poly bag
10)Payment Terms: T/T, Western Union, Paypal