Canada border up to 8892 km, the world's longest undefended border line, but also the world's longest coastline. Canada, use Maple Leaf as a national symbol. People as the Maple Leaf emblem, national flag painted on the middle three red maple leaf, the national anthem as "Long live the maple leaf." Canada has more than 10 species of maple, black maple and sugar maple mainly in Ontario and Quebec, the largest distribution. March each year, Canada also held the traditional "Maple Festival", people can enjoy to taste sweet maple syrup.
Maple is maple leaves, usually palmate five cleft, length 13 cm, width slightly larger than the length, three largest lobes of the tooth with a few prominent, the base of the heart-shaped, above the green to dark green as the following pulse there axillary hair, fall into the yellow to orange or red.So many people make with other products as maple leaf.This is one maple leaf lapel pin. Stamping iron with shape, color of gold same as yellow. Filled color with soft enamel as law enforcement lapel pin and breast cancer lapel pins.
This canada maple leaf lapel pin is made with waving maple leaf, color of red and black.Also like a flag pin. Surface plating gold, very nice and symbolize good harvest.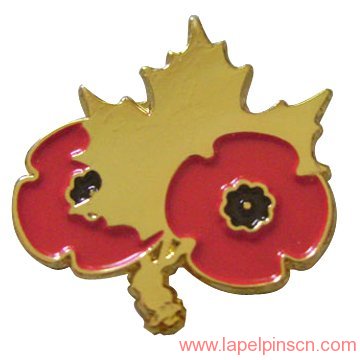 Below is the detailed specification:
1) Canada maple leaf lapel pin
2) Material: Iron
3) Size: 1" or custom size
4) Plating color:Gold
5) Production process:Die struck+soft enamel
6) Minimum order: No MOQ
7) Sampling time: 7 days
8) Delivery time: 8-15 days for 100-5000pcs
9) Packaging: Each into a free poly bag
10)Payment Terms: T/T,Western Union,Paypal