Breast cancer is one of the most common malignant tumors, the incidence rate of 7-10% of systemic malignancies. Its incidence is often associated with genetic between 40 - and 60-year-old, premenopausal and postmenopausal women have a higher prevalence. Possible reasons: BMI is high, the survival pressure, biopsy history of benign breast lesions, menarche ≥ 14 years of age, use of combined hormone replacement therapy after menopause and menopause, family history of cancer.

Many women's organizations are very concerned about this disease, and sometimes make breast cancer lapel pins, and issued to its members. Meetings, activities, staffing. But this concern and care for women is an important embodiment. Breast care, health care, care for women. Women are the indispensable part in our society.

This one is the same as pink ribbon lapel pin, for they are nearly the same. The 3D design of ribbon, and filled the pink epoxy color. Little pink diamond fix at right bottom. Seems like a woman standing. You can pated it anywhere you want. So beautiful with the green awareness ribbon pin.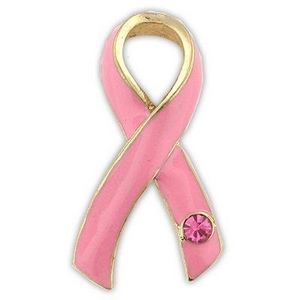 Below is the detailed specification:
1) Breast cancer lapel pin
2) Material: Zinc alloy
3) Size: 28x14mm or custom size
4) Plating Color: Gold
5) Production process: Casting-plated-colored
6) Minimum order: No MOQ
7) Sampling time: 9 days
8) Delivery time: 8-15 days for 100-20000pcs
9) Packaging: Each into a free OPP bag
10)Payment Terms: T/T, Western Union, Paypal