Many plant have bright, fragrant flowers. These flowers are the sexual reproductive organs of the plant seeds, plants can reproduce. Spent in their color and scent to attract insects for pollination. The flower is the plant used to enjoy, with the reproductive function of metamorphosis spur.
A complete flower includes six essential part of the pedicel, receptacle, calyx, corolla, androecium and gynoecium. The world's largest flower is Stan Clifford, Sir Raffles found a cling plant – big flowers grass. It belongs to a white powder moss vine grows in the jungles of Southeast Asia. Diameter 91 cm, weight 11 kg, petals thickness is 1.9 cm.
Flower is so beautiful that people are want to save them. Make or use it anywhere in their life. Flower lapel pins with big red flower in middle and two green leaves below. Top with words "OREGON", may be it's the Oregon state lapel pin. Also you can check the rose lapel pins here. Soft enamel color and bronze plating.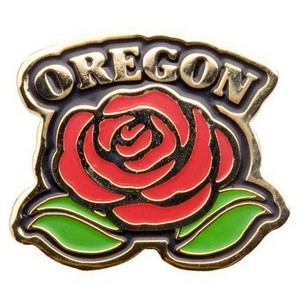 Below is the detailed specification:
1) Flower lapel pin
2) Material: Iron/brass
3) Size: 1"x1" or custom size
4) Attachment: Butterfly clutch
5) Production process: Die struck
6) Minimum order: No MOQ
7) Sampling time: 7 days
8) Delivery time: 8-15 days for 100-10000pcs
9) Packaging: Each into a free poly bag
10)Payment Terms: T/T, Western Union, Paypal