Rose, also known as Rosa flowers,mandrel roses belong to Rosaceae of shrub.As a crop, mainly for their flowers, food and refined fragrance of rose oil, rose oil more value than the weight of gold. A symbol of beauty and love, express love is the focus of materials. Can be used for any occasion for a special Valentine's Day floral. The following are the meanings for different colors:
Rose (red): deeply love, love you,and sincerely
Rose (Pink): first love, eternal love, special care
Rose (White): pure love, innocence,respect
Rose (yellow): romance, faded love, apology
Rose (orange red): feelings of first love
Rose (Blue): good honest pure love
Rose (Black) Purple Rose: loyalty, miss
This rose lapel pin is made of four roses and leaves.Color filled with hard enamel, same technology as school lapel pin and Christian lapel pins. Plating gold color, very nobleness. And the metal line is very likeness. When take it at a party, you will be the forcus.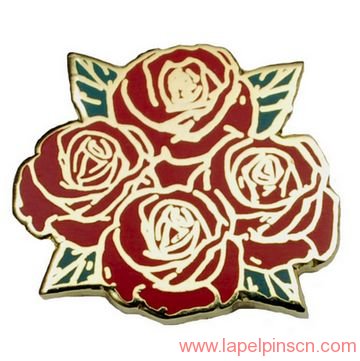 Below is the detailed specification:
1) Rose lapel pin
2) Material: Bronze
3) Size: Diameter 1 1/2" or custom size
4) Attachment: Butterfly clutch
5) Production process: Stamping-enamel-plating
6) Minimum order: No MOQ
7) Sampling time: 7 days
8) Delivery time: 7-18 days for 500-10000pcs
9) Packaging: Each into a free poly bag
10)Payment Terms: T/T, Western Union, Paypal