School is the place where we study,make friends,grow to maturity.It is the most beautiful place in our life.He teach us the knowledge,grow up ourselves,this is the rarity memory in our youth.School life may not exsit when you are old.School memory is the priceless.

So many schools,institute make some souvenir to commemorate the school history or events.Especially decennium anniversary,it's very solemn and ceremonious.Many students and graduates are keeped it.It's only one school lapel pin belong to you.

This school lapel pins is the Licensed Practical Nurse lapel pin.AMERICA SCHOOL LPN:
plated in gold,background of white,technology of soft enamel.Size of diameter 38.1mm.thickness in 1.5mm.One needle and two snakes in the middle,two wings on the side.It's very magnificent and full of academic.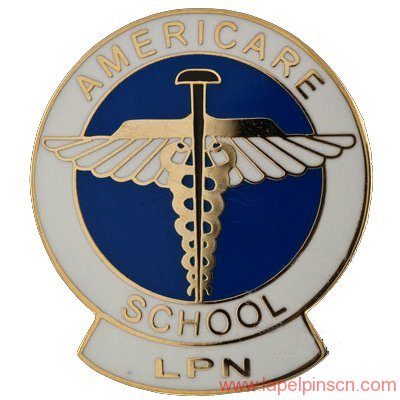 Below is the detailed specification:
1) School lapel pins
2) Material: Bronze
3) Size: 30x28mm or custom size
4) Plating Color: Gold
5) Production process: Stamping-plating-hard enamel
6) Minimum order: No MOQ
7) Sampling time: 7 days
8) Delivery time: 7-10 days for 100-10000 pcs
9) Packaging: Each into a free OPP bag
10)Payment Terms: T/T, Western Union, Paypal