The leopard belongs to the genus Panthera, which is larger than the snow leopard. The color of the leopard tiger is bright, with many spots and golden fur. Leopard can be said to be an agile hunter, with a strong body, flexible movements, endless power, fast running speed, sprint speed of up to 115 kilometers per hour, and an average speed of 95 kilometers per hour. The leopard is tall, with beautiful lines, strong sexual force and quick movement. It is a symbol of majesty and strength. The leopard has a rather peculiar habit of dragging the prey onto a tree and hanging it on the branch, not like lions. The leopard has an Asian leopard and a jaguar; it is also widely produced in Africa, so there are also African leopards.
The color of the leopard body is bright, the back of the body is apricot yellow, the under the neck, the chest, the abdomen and the inner side of the limbs are white, the back of the ear is black, there is a prominent white spot, the tail is black, and the whole body is covered with black spots and spots on the head. Small and dense, the spots on the back are dense and large, and the spots are round or oval plum-like patterns.
The leopard lapel pins have two
custom pins
, seems the same design right? Yes they are similar but different raised metal and enamel area. Top one have the major gold metal with black, red and white enamel. Bottom one have the black metal with orange, white and black enamel. Here is a leopard in leopard
automobile lapel pins
.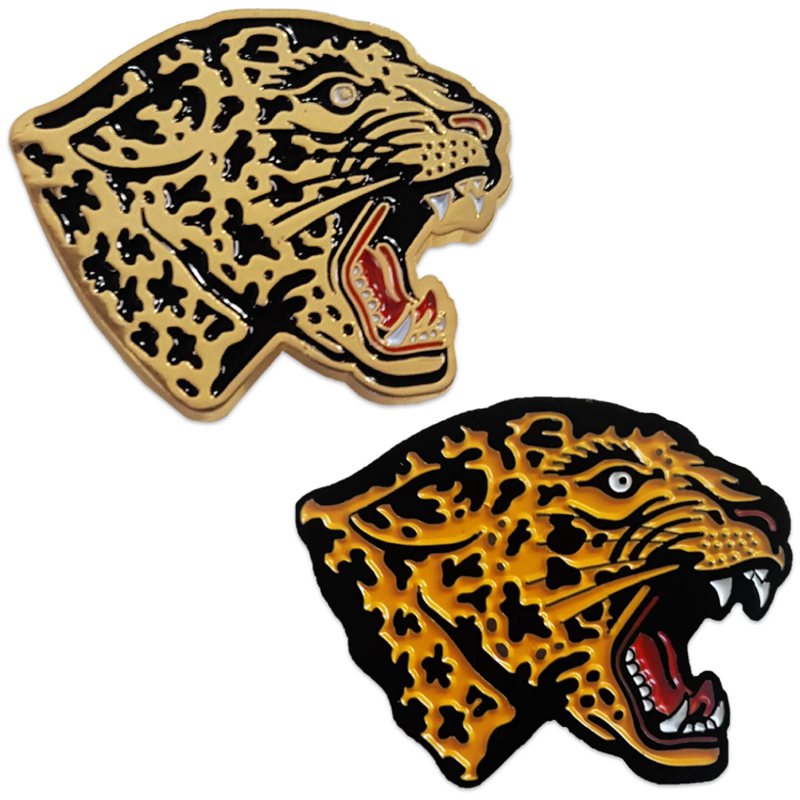 Here are the details:
1) Leopard lapel pins
2) Iron/bronze/zinc alloy
3) Size: 1.5" or custom size
4) Attachment: Rubbers or butterfly clutch
5) Production process: Die struck-gold plating-soft enamel
6) Minimum order: No Minimum (No MOQ)
7) Sampling time: 7 days
8) Delivery time: 10-15 days for 100-5000pcs
9) Packaging: Each into a free poly bag
10)Payment Terms: PayPal,T/T or Western Union