Zebra is named for its protective markings stripe. No animal is more distinctive than a zebra's fur. The stripes of the zebra are the same as the human fingerprints - no two ends are identical. Zebra is an African specialty. African plain zebras with stripes from legs to hooves or stripes without legs. East Africa also produces a format zebra, the largest body, long and wide ears, narrow and dense body stripes, hence the name fine-grain zebra. A mountain zebra in South Africa, which has a large long ear with a similar object. In addition to the abdomen, the body is densely covered with wide black stripes.
Zebras are herbivores. In addition to grass, shrubs, branches, leaves and even bark are also their food. The adaptable digestive system allows the zebra to survive under low nutrient conditions and is superior to other herbivores. The zebra's resistance to African diseases is stronger than that of Ma, but the zebra has not been domesticated into livestock and has not been able to cross with horses (
horse pins
).
Zebra is so unique in this world, many things are making based on it, like zebra clothes, zebra shoes, zebra bottle. These zebra enamel pins two of zebra pins. Top one is the zebra head with little 3D design, nickel silver plating with black enamel. Big cute one is gold metal plating with soft enamel too. Red ear, black hair and cyan body colors. Here is the big animal
rhinoceros pin
too.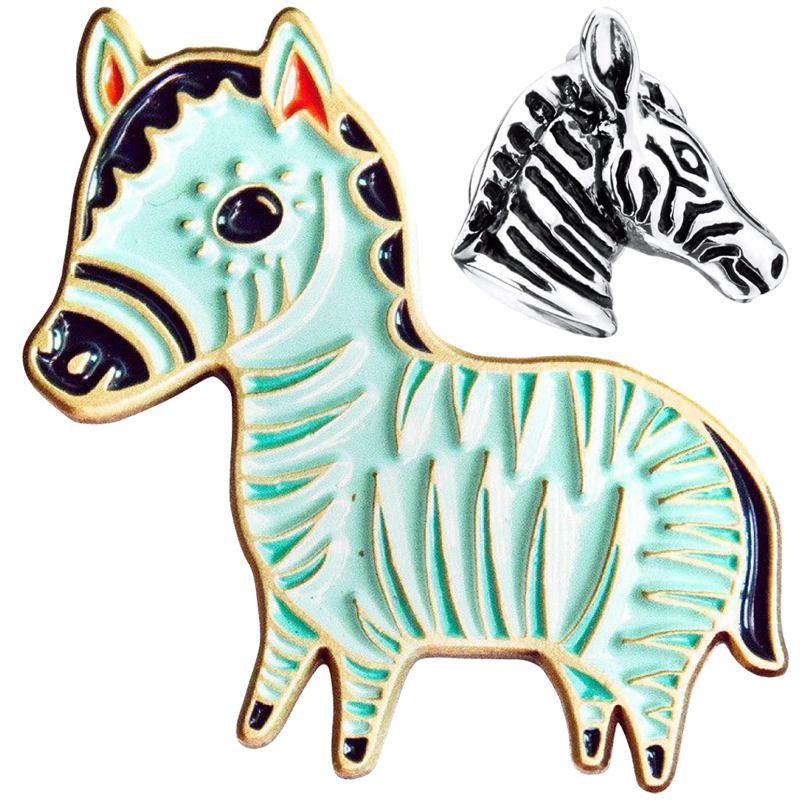 Here are the details:
1) Zebra enamel pins
2) Material: Iron/Bronze/Zinc Alloy
3) Size: 1.5" or custom size
4) Attachment: Rubbers or butterfly clutch
5) Production process: Die struck-polishing-nickel silver-soft enamel
6) Minimum order: No Minimum (No MOQ)
7) Sampling time: 7 days
8) Delivery time: 10-15 days for 100-5000pcs
9) Packaging: Each into a free poly bag
10)Payment Terms: PayPal,T/T or Western Union