Manatees are divided into American manatees, Amazon manatees and African manatees. Marine mammals, shaped like whales, have forelimbs with paddle-shaped fins, hind limbs have been degenerated, their tails are round, their bodies are smooth and hairless, only the lips are thick, gray-black, and have deep wrinkles. Feed on seaweed or other aquatic foods.
The manatee has a spindle shape, resembling a small whale. It has a body length of 2.5-4.0 meters and a body weight of 360 kilograms. It has a large amount of fat stored under the sea cows and can maintain body temperature in the sea; the head has a hairy hair; the head is large and round, and the lips Large, the head can be flexible and easy to feed; the eyes are small, the vision is poor; the high frequency hearing is good, and the low frequency is degraded.
Living in the warm waters of the Atlantic Ocean, usually in shallow seas and estuaries, only a few species inhabit rivers. Slow action. Male sea cow testes are born in the abdominal cavity. The female has a double-horned uterus and a ring-shaped placenta. It is propagated once a year, about 1 year in pregnancy, and 1 litter per litter in the water.
This manatee lapel pin is very simple design, the black metal for the manatee, blue color filled. Metal lines with his mouse, eyes, tail and forelimbs.One red little heart under, face seems unhappy. Here are more sea animal pins:
dolphin pins
and
shark lapel pins
.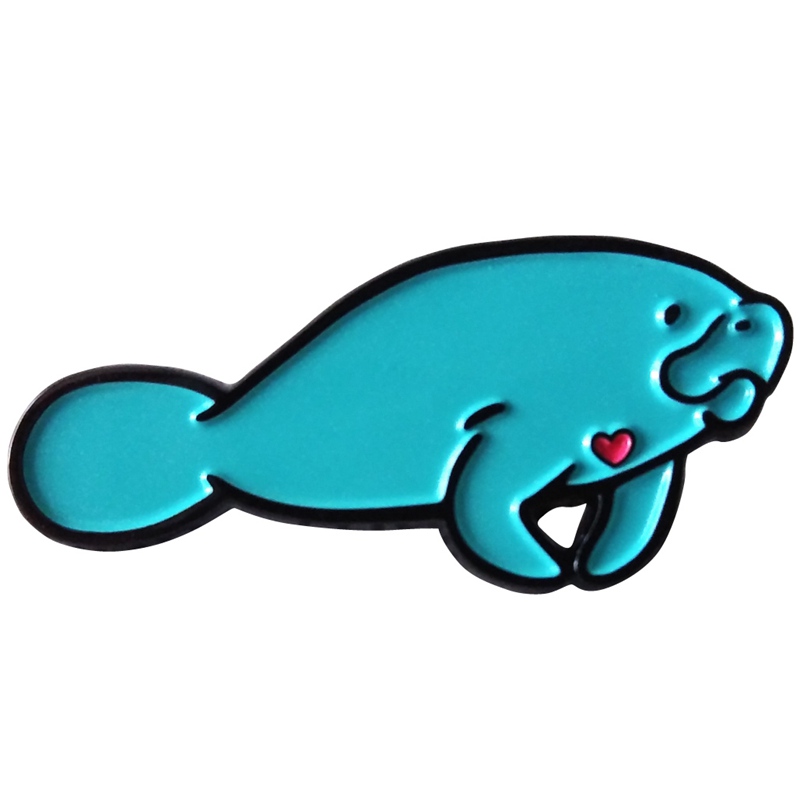 Here are the details:
1) Manatee lapel pins
2) Iron/Bronze/Zinc alloy/Pewter alloy
3) Size: 1.5" or custom size
4) Attachment: Rubbers or butterfly clutch
5) Production process: Die casting-polishing-black metal-soft enamel
6) Minimum order: No Minimum (No MOQ)
7) Sampling time: 7 days
8) Delivery time: 10-15 days for 100-5000pcs
9) Packaging: Each into a free poly bag
10)Payment Terms: PayPal,T/T or Western Union