Hippo is the largest omnivorous mammal in freshwater species. It is huge, with a body length of 4 meters, a shoulder height of 1.5 meters, a body weight of about 3 tons, a thick body, short limbs, 4 toes on the feet, large head, eyes and ears. Smaller, the mouth is particularly large, the tail is smaller, except for the thin part of the snout, tail and ear, the whole body skin is bare, purple-brown. The stomach is three chambers, not ruminant.
Living in the abundant tropical grassland in Africa, almost all in the water during the day, eating water grass, the daily food consumption is more than 100 kilograms; the nature is docile, the fear is cold and warm, good swimming, can sneak along the river bottom for 5 to 10 minutes; in the mating season, male There is a battle between them, about 8 months in pregnancy, 1 child per litter. 1 year of lactation, 4-5 years of sexual maturity, life expectancy of 30-40 years. The hippo's body is huge, but walking in the water is very light. In the hot sun, the surface is covered with muddy water to protect it from the sun. The sweat glands of the hippo's skin secrete a red liquid as a natural sunscreen to moisturize the skin.
This hippo enamel pins have the gold metal lines, soft enamel process. Little recessed metal under the feet. Body lines, eyes, mouth are making with metal. Light blue enamel color, simple design and cute. Similar ainimal pins are
orangutan pins
and
tiger pins
.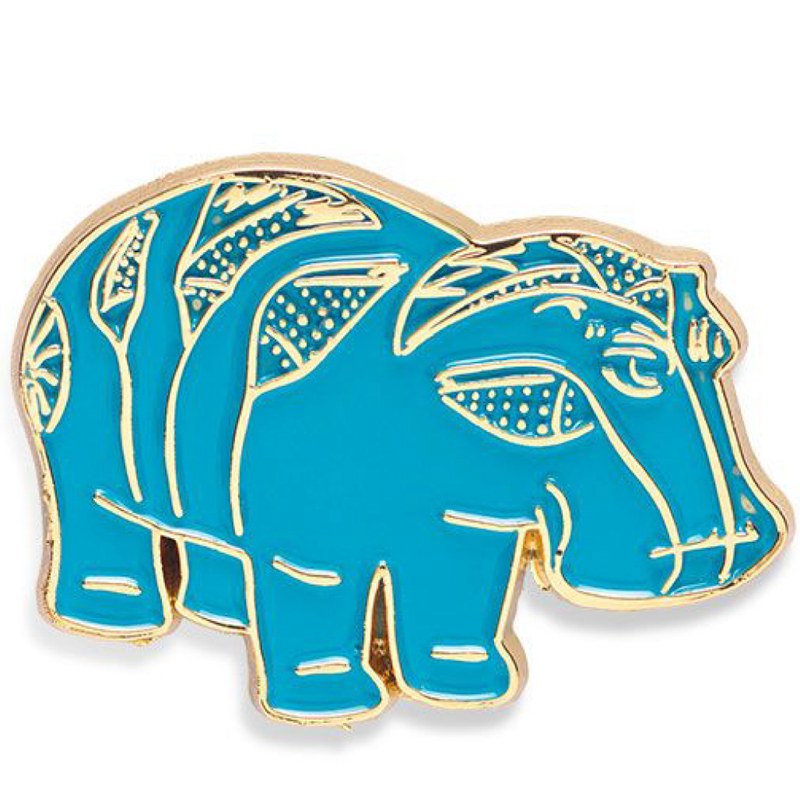 Here are the details:
1) Hippo enamel pins
2) Iron/bronze/zinc alloy
3) Size: 1.25" or custom size
4) Attachment: Rubbers or butterfly clutch
5) Production process: Die struck-gold metal-soft enamel
6) Minimum order: No Minimum (No MOQ)
7) Sampling time: 7 days
8) Delivery time: 10-15 days for 100-5000pcs
9) Packaging: Each into a free poly bag
10)Payment Terms: PayPal,T/T or Western Union