Rabbit is mammalia, rabbit-shaped head of all animals collectively. Short-tailed, long-eared head slightly like a rat, the middle of the upper lip split, a short tail and upturned hind legs slightly longer than the front legs, good at jumping, run very fast. Regional distribution: except Antarctica continents were distributed. The rabbit is common in small animals, all over the world now have reared, there are many varieties of excellent Belgian rabbit, the fuzz rabbit, Angora.

Rabbit eyes red, blue, brown, black, gray and other colors, also not the same as two eyes of rabbits around. Perhaps rabbits are nocturnal animals, so it eyes can gather a lot of light, even in the micro-dark can see things. Addition, due to the rabbit's eye long in the face on both sides, so it's wide field of vision, something around to see clearly.

Here is the rabbit lapel pin: standing on the floor and body color of brown. Black eyes, white foot and tail. Color can be make as your request with the Pantone color. This pins whole gold plating, soft enamel technology. Other process with printing pins, stamping pins and so on. Animal pins: dog pins, dove lapel pin and lion lapel pins.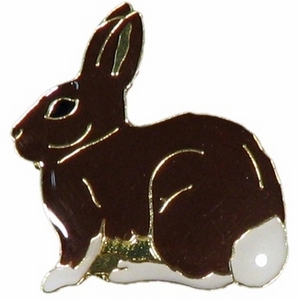 Below is the detail:
1) Rabbit lapel pins
2) Material: Iron/Bronze
3) Size: 1" or custom size
4) Attachment: Butterfly clutch
5) Production process: Die struck-cutting-enamel
6) Minimum order: 1 piece
7) Sampling time: 7 days
8) Delivery time: 10-15 days for 1000-5000pcs
9) Packaging: Each into a free oppbag
10)Payment Terms: T/T, Western Union, Paypal