The owl is a nocturnal raptor. Short round tail , strong and powerful feet, often all feathers, the fourth toe can be reversed back to facilitate climbing. Claw large and sharp. Nestlings for the late sex. Ears with peripheral feathers, contribute to the night to distinguish between sound and night positioning. Nest in the tree hole or rock gap.
Owls, a total of more than 130 species. All continents except Antarctica are distributed. The majority of species are nocturnal carnivores. The heads of birds head wide, mouth short and thick front-end into a hook, the head of the feathers arranged in the face plate, some types of ears with feathers. Binocular distribution, face plate and ear feathers to the head of birds head is very similar with cat, it is commonly known as owl.
In Japan (
Japan flag pin
), the owl is known as a blessing bird, also become the Nagano Winter Olympics mascot, representing auspicious and happy. The descendants of the Canada (
Canada flag pin
) Vancouver Indians still retain the owl's totem dance. In Western culture, the owl is a symbol of wisdom. Here the owl rhinestone pin, the owl standing on the branch, watching and cute. The claw and ear are the gold metal, other parts are full with blue rhinestone, they eyes are black stone, very vivid and real. Here are more animal pins and stone pins:
cat lapel pins
,
snake lapel pin
and
diamond lapel pins
.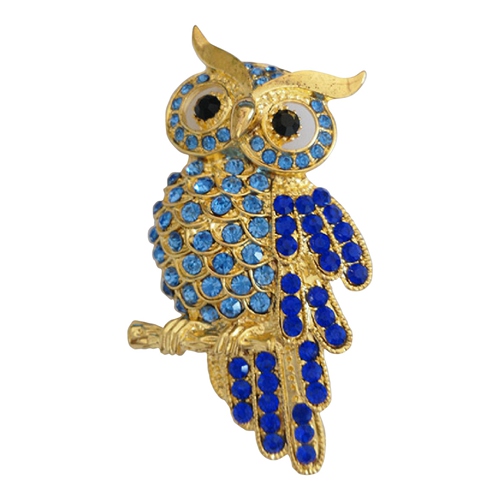 Below is the detailed specification:
1) Owl rhinestone pin
2) Material: zinc alloy
3) Size: 3" or custom size
4) Attachment: Safety clip
5) Production process: Die casting-plating-inlay stones
6) Minimum order: No MOQ
7) Sampling time: 7 days
8) Delivery time: 12-18 days for 1000-5000pcs
9) Packaging: Each into a free poly bag
10)Payment Terms: T/T, Western Union, Paypal