Student council , is now one of the organizational structure of schools is the students' own mass organization, contact the school students bridge and link. Students consciously accept the leadership, supervision and inspection of the student union to actively support the work of the Student Union.

Student council or Student body is a curricular or extra-curricular activity for students within elementary and secondary schools around the world. Present in most public and private K-12 school systems across the United States, Canada and Australia these bodies are alternatively entitled student council, student government,

Most time they take student council pins when exercise right. Also need it at meeting, holiday or activity differently with school lapel pins. Only the council member can use it. Below this one design with one star (military star pins) on left. And three color stripe on right. Words of "STUDENT", "COUNCIL". Red, white and blue like the German flag pins or Hungary flag pins.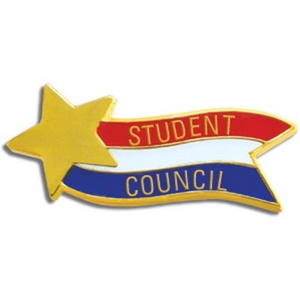 Below is the detailed specification:
1) Student council pins
2) Material: Iron/bronze
3) Size: 25"x12" or custom size
4) Plating color: Gold
5) Production process: Stamping-enamel
6) Minimum order: No MOQ
7) Sampling time: 7 days
8) Delivery time: 7-18 days for 100-10000pcs
9) Packaging: Each into a free poly bag
10)Payment Terms: T/T, Western Union, Paypal