Germany full name The Federal Republic of Germany in western Europe, east of Poland, south of Austria, west of the Netherlands, France, North and Denmark is connected to and adjacent North and Baltic Seas. National form of government is a parliamentary republic. The Federal President as Head of State, Federal Chancellor of the Heads of Government. The strength of the German economy, Europe's largest first-class powers of Europe and the world today, Germany is the world's fourth largest economy, the national flower of cornflower, National Day, October 3.
The German flag was horizontal square, the length and width ratio of 5:3. Top-down by three parallel horizontal rectangles in black, red, gold (yellow) is connected from. Tri-color flag of the origins of different opinions, dating back to the first century AD the Roman Empire, the black symbol of compassion to the oppressed people, red is the mood of the fight for freedom, gold is a brilliant characterization of the ideal and truth.
This German flag pin designed with flag. Color of soft enamel man hand filled. Gold plating and custom shape. You can give us your idea to make the unique or antique lapel pin. We have customized US flag pins, Canada flag pins and Australian flag pin. Wish you can find the one you want.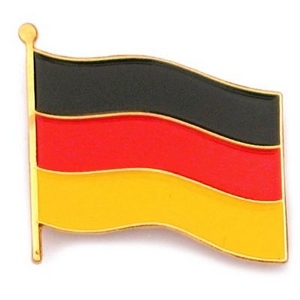 Below is the detailed specification:
1) German lapel pins
2) Material: Iron/brass
3) Size: 25x18mm or custom size
4) Attachment: Butterfly clutch
5) Production process: Stamping-plating-enamel
6) Minimum order: No MOQ
7) Sampling time: 7 days
8) Delivery time: 8-15 days for 100-10000pcs
9) Packaging: Each into a free poly bag
10)Payment Terms: T/T, Western Union, Paypal