Pins can be old (real long time ago) or made in modern times, but looks antique. How could this happen? Magic is the plating on surface, not same with normal metal plated. It's need more process to do, twice or three deal.

It is colorful with anti-bronze, anti-silver, anti-nickel, anti-gold, anti-copper and so on. Many metal can be used as plating, color can be more and more black if you want. But it's a little expensive than common. But in Lapel Pins CN it's the same price of all pins, like stamping pins, enamel pins or printing pins.

Below is a anti-silver pin, shape of one flower (rose lapel pins). Cloisonné enamel black, word with "PiPS 1956". Zinc alloy are for complex or 3D design. This one with high quality of bronze or brass. Metal line will be more clear and beautiful.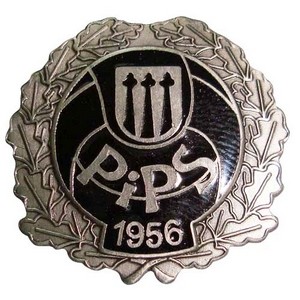 Below is the detailed specification:
1) Antique lapel pin
2) Material: Iron/brass
3) Size: 1"x1" or custom size
4) Attachment: Butterfly clutch
5) Production process: Die struck
6) Minimum order: No MOQ
7) Sampling time: 7 days
8) Delivery time: 8-15 days for 100-10000pcs
9) Packaging: Each into a free poly bag
10)Payment Terms: T/T, Western Union, Paypal