Republic of Hungary (Hungarian: Magyar Kztársaság), referred to as Hungary is a landlocked country located in central Europe. East Romania,Ukraine, west Austria. Total length of 2246 km border line, Budapest is the capital.Natural resources lacks in this country, mainly minerals are bauxite, reserves ranking third in Europe.2/3 are have geothermal resources in this area. Agriculture accounts for an important position.
National flag in shape of rectangular, length and width ratio of 3:2. Top-down by the red, white, green, three equal horizontal rectangular parallel connected together. Red symbolizes the blood of patriots, but also a symbol of national independence and sovereignty; white symbolizes peace, freedom and light to represent the people's good wishes; green symbolizes the prosperity of Hungary, a symbol of people's confidence in the future and hope.
This
unique Hungary flag pin
is not only the flag, but some words on it.Sorry for I do not know what's it. May be Hungarian, and "KPACHOKAMCKA" at the bottom. One swing flag with flagstaff,similar as
USA lapel pin
. Craftmanship of hard enamel, it's the best quality in lapel pin making.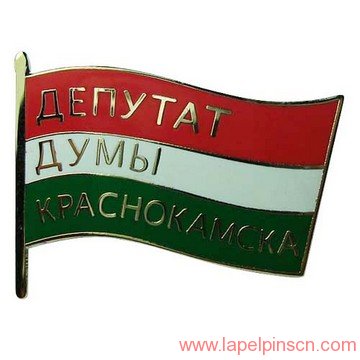 Below is the detailed specification:
1) Unique Hungary flag pin
2) Material: Bronze
3) Size:25x18mm or custom size
4) Attachment: Butterfly clutch
5) Production process: Stamping-hard enamel-nickel plating
6) Minimum order: No MOQ
7) Sampling time: 7 days
8) Delivery time: 7-10 days for 500-1000 pcs
9) Packaging: Each into a free OPP bag
10)Payment Terms: T/T, Western Union, Paypal