According cow skull unearthed fossils and remnants of ancient murals and other information that can prove the cow of the original Bos primie-nius, at the beginning of the Neolithic domesticated. Original cow remains in West Asia, North Africa and Europe are found.
The common feature of bovine is strong physique; suitable for long-distance running legs; incisors and canines have been degraded, in order to store fodder, avoid predators, and their evolution in the stomach to form a chamber 4: the rumen, reticulum, omasum and glandular stomach, also has a "ruminant" habits, so that food can get better digestion and absorption.
Common types: 1, Bos taurus, widely distributed, very large quantity, very close relationship with human life. 2, Yak, 3,Bison 4, Bubalus is the main rice areas. 5, Bos taurus domestica have short horns, fur mostly brown or black, short hair.
Here is the cow lapel pins: very cute design, very big head, standing on greensward words:"© LR" on it. Seems eating the grape, four white leg, white and dark brown color on surface. Pink skin color with mouth and back big breast. Very cute and funny. Process with hard enamel, other animal pins:
cat lapel pins
,
snake lapel pins
,
horse lapel pins
and
dove lapel pins
.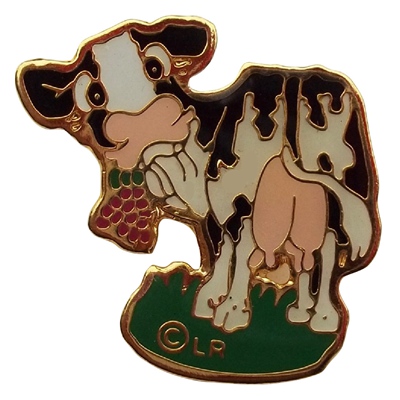 Below is the detailed specification:
1) Cute cow lapel pin
2) Material: Zinc alloy
3) Size: 1.5" or custom size
4) Attachment: Butterfly clutch
5) Production process: Die casting-polishing-plating-hard enamel
6) Minimum order: No MOQ
7) Sampling time: 7 days
8) Delivery time: 10-15 days for 1000-5000pcs
9) Packaging: Each into a free poly bag
10)Payment Terms: T/T, Western Union, Paypal