The wolf has a total of 46 subspecies, medium-sized, well-proportioned, slender limbs, toes, conducive to fast running. Nocturnal activity, keen sense of smell, good hearing. Vigilant, suspicious, good running, strong endurance, often used to pursue the prey. The wolf is a carnivorous animal. It feeds primarily on deer, antelope, and rabbits. It also eats insects and rats, and is resistant to hunger. The wolf is a predator and the wolves are formed in the form of a nuclear family. The gray wolf used to be found throughout North America (
USA pins
), but North America can only be seen in tundra and forests in Alaska, the United States and Minnesota, Great British Columbia and the Great Plains. . The wolves mainly prey on large and medium-sized mammals. Research shows that wolves are the key role in controlling the local ecological balance, and the natural enemies are mainly human.
Dogs (
dogs lapel pins
) are common pets in human daily life and may be the offspring of domesticated wolves. The ancestor of the dog may be a wolf in East Asia. The United States has no trace of the wolf except in most parts of the northern states (since the ecologists' study shows that the wolf's status in the ecosystem is irreplaceable, so wolves are being reintroduced in many parts of the United States), and Mexico's wild The wolves have been extinguished in 1960.
This 3D wolf lapel pins had the perfect details with the head, lines on the ear, raised nose, eyes and mouth. Antique gold looks like a very long time pins, the face and expression in the eyes are stateliness. The blue eyes seeing everything. Here are more animal pins:
pig pins
an
birds pins
.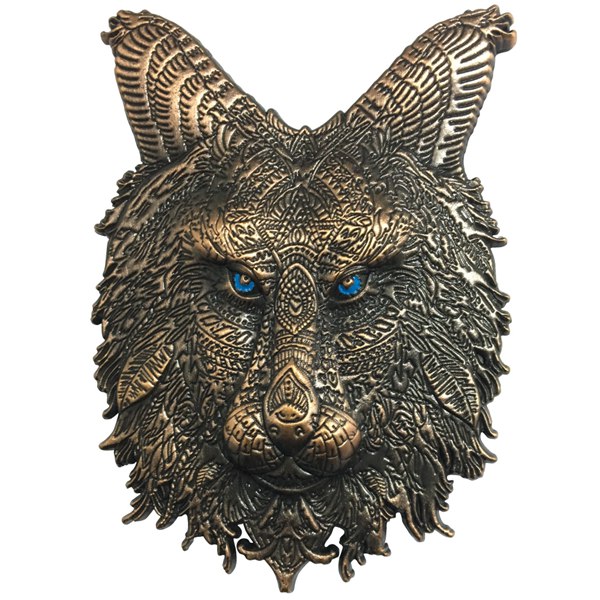 Below is the details:
1) 3D wolf lapel pins
2) Material: zinc alloy
3) Size: 1.5" or custom size
4) Attachment: Butterfly clutch or rubbers
5) Production process: Die casting-polishing-antique gold plating-soft enamel
6) Minimum order: No Minimum (No MOQ)
7) Sampling time: 7 days
8) Delivery time: 10-15 days for 100-5000pcs
9) Packaging: Each into a free poly bag
10)Payment Terms: T/T, Western Union, Paypal