The English word world comes from the Old English weorold (-uld), weorld, worold (-uld, -eld), a compound of wer "man" and eld "age," which thus means roughly "Age of Man." World is a common name for the whole of human civilization, specifically human experience, history.

Geography interpreted as a general term of all time and space, but now the world bias refers to the space usually refers to human life living planet Earth's surface can be described with a map of the world. To the 16th century, Copernicus establish heliocentric is widely recognized: the earth is one of the planets orbiting the sun, eight planets, including Earth, constitute the main members of the line galaxies revolve around the sun - the solar system. In a theological context, world usually refers to the material or the profane sphere, as opposed to the celestial, spiritual, transcendent or sacred.

Have you seen the world lapel pins or UN pins? Here is the nice one, round planet with the world map. The two Olive Leaf encircle the edge. Silver plating color and white cloisonne process. Pretty stamping and polishing, you can take it as a mirror. Touch the smooth surface, you will feel the flat metal pin. Similar with Christian lapel pin and school pins.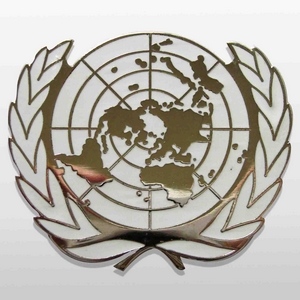 Below is the detail:
1) World lapel pins
2) Material: Iron/Bronze
3) Size: 1.5" or custom size
4) Attachment: Butterfly clutch or safety clip
5) Production process: Die struck-enamel
6) Minimum order: 1 piece
7) Sampling time: 7 days
8) Delivery time: 10-15 days for 1000-5000pcs
9) Packaging: Each into a free oppbag
10)Payment Terms: T/T, Western Union, Paypal