The raccoon is native to North America and is now an endangered species. Raccoons are characterized by a dark fur coat around their eyes and a small body, about 40 to 70 cm in length. It is called a raccoon because it often fishes by the river and wash food in the water.
The raccoon's claws are very sensitive. The tactile cells above are quite rich. After contact with water, the sensitivity of the slow-adapted sensor on the claws is increased. The raccoon can rely on the claws to measure the weight, size, material and temperature of the food. Raccoons are nocturnal animals. After 12 o'clock at night, Canadians call it a mysterious thief. Raccoons must live near water. They like to live in moist forest areas, but they can also live in farmland, suburbs, and urban areas.Raccoons usually build nests in trees.
This raccoon enamel pin have the pure light gray background color. The face have the white enamel the black eye with long rim of the eye, eating a fruit may be a peach, the yellow peach. All color are same level as the black nickel metal. Here are more animal pins:
monkey pins
and
bear pins
.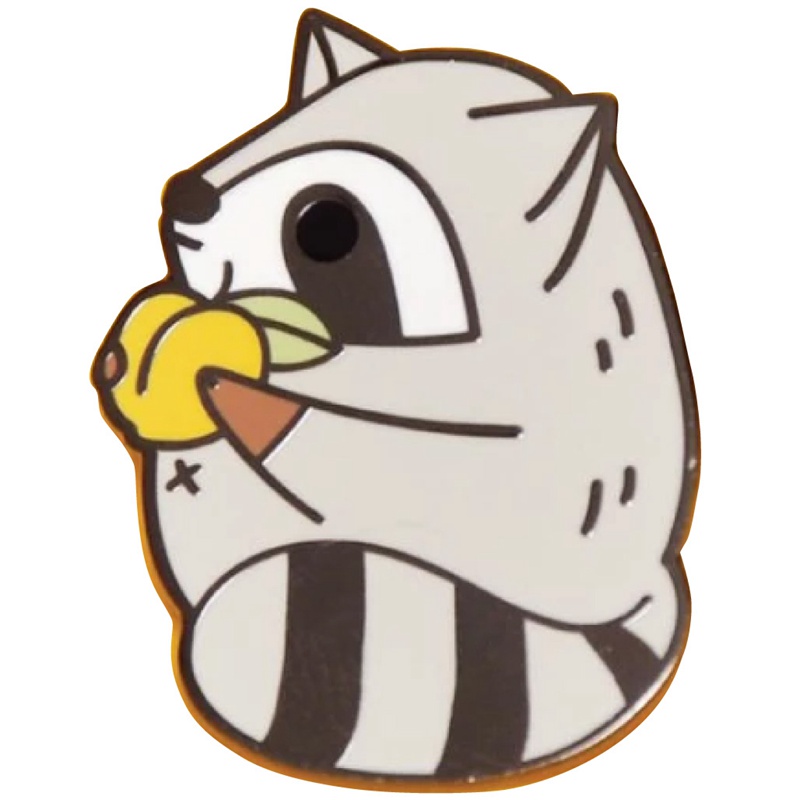 Here are the details:
1) Raccoon enamel pins
2) Iron/Bronze/Zinc alloy
3) Size: 1.5" or custom size
4) Attachment: Rubbers or butterfly clutch
5) Production process: Die struck-hard enamel-black nickel plating
6) Minimum order: No Minimum (No MOQ)
7) Sampling time: 7 days
8) Delivery time: 10-15 days for 100-5000pcs
9) Packaging: Each into a free poly bag
10)Payment Terms: PayPal,T/T or Western Union