The pangolin is 42-92 cm in length with head and body, weighs 2-7 kg; the scales are parallel to the body axis, with a total of 15-18 rows. The scales are tan, the scale edges of the old animals are orange brown or gray brown, and the scales of the young animals have not been keratinized. The kiss is slender. The brain is large and conical. Although they are highly terrestrial animals, they are also fully capable of climbing trees and have good swimming capabilities. The pangolin's long claws dug a cave that sleeps during the day, and goes around in the evening to find food.
Inhabits the wet woods area in hills, piedmonts and plains. Like hot, can climb trees. It can dig holes in the soil with a depth of 2-4 meters and a diameter of 20-30 cm. The nest diameter at the end is about 2 meters. Eating termites, ants, bees or other insects with long tongues. Distributed in Bhutan, China, India, Lao People's Democratic Republic, Myanmar, Nepal, Thailand and Vietnam.
The pangolin enamel pins have the colorful blue, yellow, pink color. Have the four yellow feet, long tail. The enamel color are bright-coloured, so this pangolin is not dark or murk, it's shinny and cute. Here is the
anteaters pins
.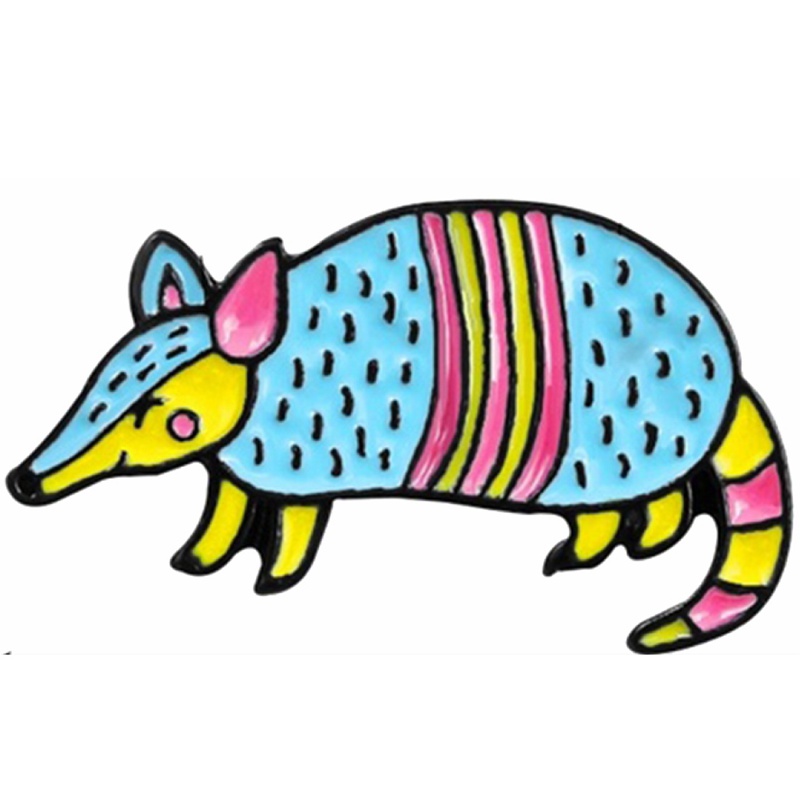 Here are the details:
1) Pangolin enamel pins
2) Iron/Bronze/Zinc alloy
3) Size: 1.5" or custom size
4) Attachment: Rubbers or butterfly clutch
5) Production process: Die struck-black nickel plating-soft enamel
6) Minimum order: No Minimum (No MOQ)
7) Sampling time: 7 days
8) Delivery time: 10-15 days for 100-5000pcs
9) Packaging: Each into a free poly bag
10)Payment Terms: PayPal,T/T or Western Union