The giant panda belongs to the carnivorous and ursus mammals, with a head and a body of 1.2-1.8 meters in length and a tail of 10-12 cm in length. It weighs 80-120 kg and can weigh up to 180 kg. Its body color is black and white. It has round cheeks, large dark circles, a fat body, an iconic walking pattern, and a sharp claws as scalpel. Is one of the cutest animals in the world.
Giant pandas have lived on the earth for at least 8 million years, and are known as "living fossils" and "Chinese national treasures." The life of wild pandas is 18-20 years, and can exceed 30 years in captivity. As of November 2019, the number of captive giant pandas worldwide has reached 600. Giant pandas are endemic to China, and their main habitats are mountainous areas in SiChuan, ShaanXi, and GanSu province of China. Giant pandas are not afraid of cold and wet, and never hibernate.
This giant panda enamel pin have the cute anthropogenic activity, reading the book (
book pins
) lolling in a brown tree. The round shape have the light blue background, green leaves, pink book. Also the white and black color with panda. Black nickel plating metal with hard enamel process. Smooth all the pins, here is the
red panda pins
.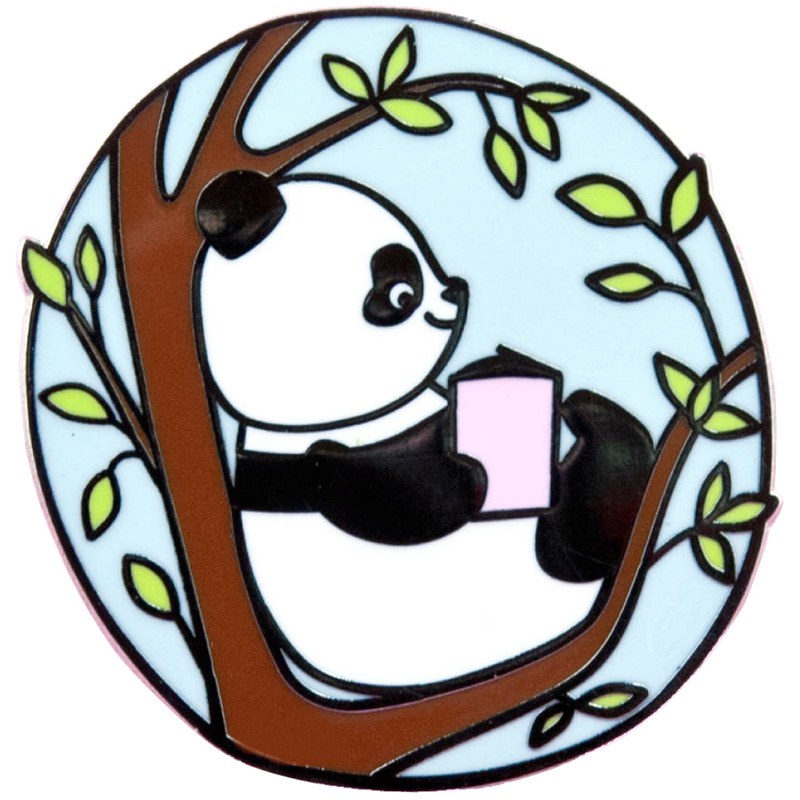 Here are the details:
1) Giant panda enamel pins
2) Iron/Bronze/Zinc alloy/
3) Size: 1.5" or custom size
4) Attachment: Rubbers or butterfly clutch
5) Production process: Die struck-hard enamel-black nickel plating
6) Minimum order: No Minimum (No MOQ)
7) Sampling time: 7 days
8) Delivery time: 10-15 days for 100-5000pcs
9) Packaging: Each into a free poly bag
10)Payment Terms: PayPal,T/T or Western Union