A book is a spiritual and cultural product with a material carrier created by the same or different producers through spiritual and material activities and a series of production relations.Reading may be the most important thing for people, it's the difference with animal. We feed the head with books, become more civilized. Knowing more knowledge and things around us. We can do without eating, but we can't do without reading books, someone said. There are many interesting things about books, here are part of them:
Bookworm: A person whose name likes books and is addicted to it. Study room: a room for reading and writing. Bookshelf: A shelf for placing books, mostly made of wood or iron. Also called the bookshelf. The world's smallest book: the nano book. Only 0.07 mm wide and 0.1 mm long, this book is "TeenyTedfromTurnipTown". The world's largest book: This book is 2 meters high and 3 meters wide. This book is the Duden German Orthography Dictionary.The most widely spread book in the world: The Bible. The most translated book in the world: The Bible.
Now the e-books are more popular than before, you can read with cell phone, pad or any electronic equipment with a screen. E-books are publications that digitize the content of text, pictures, sounds, images, etc. A handheld reader that downloads a collection of storage media and display terminals for digitized text, pictures, sounds, images, etc., representing digital publications that people read.
Here is the famous book pins: it's a book cover, nickel silver plating. White ribbon around the books bottom, words:"READ PAST MY BEDTIME" on it. The dark blue background, orange round top and five little star spread in. The little bookmark also orange. Related
books lapel pins
and
Einstein pins
, I thought Einstein must be reading huge of books.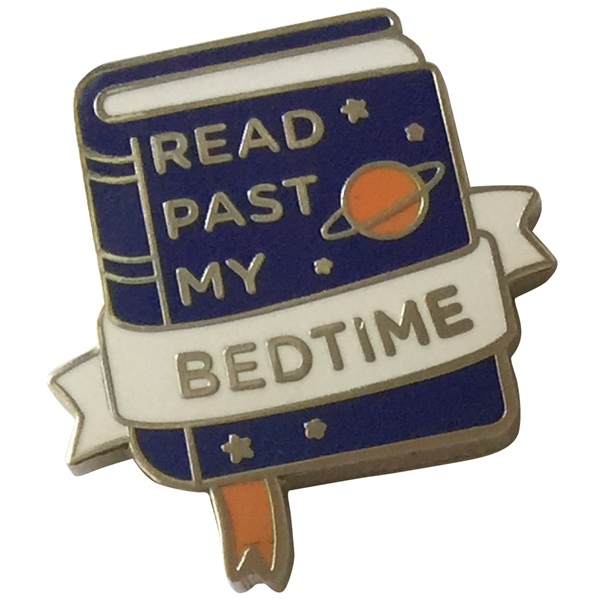 Here is the details:
1) Book pins
2) Material: Iron/bronze/copper
3) Size: 1.25" or custom size
4) Attachment: Butterfly clutch or rubbers (black,yellow or red)
5) Production process: Die struck-polishing-hard enamel-silver plating
6) Minimum order: No Minimum (No MOQ)
7) Sampling time: 7 days
8) Delivery time: 10-15 days for 100-5000pcs
9) Packaging: Each into a free poly bag
10)Payment Terms: T/T Western Union Paypal