A book is a type that records, analyzes, summarizes, organizes, discusses, and interprets information, illustrated or unplugged, hard copy or paperback, jacquard or not, including prefaces, introductions, table of contents, indexes A device to increase knowledge, deepen understanding, enhance and educate the human brain, which requires the presence and use of visual, touching sensory modalities.
Book is the main tool used by mankind to record all achievements, and it is also an important medium for mankind to integrate feelings, acquire knowledge and inherit experience, which is of great significance to the development and inheritance of human civilization. It is an important tool for human to spread knowledge. The heaviest book weighs 2 tons and a half, covers an area of 41 square meters, the light catalog reached 520,000 pages, compiled from 12 years. The smallest book covers less than 1 square centimeter. This book is the "chameleon" written by Russian writer Chekhov.
Book is the life of our time. - Belinski, books are great power. - Lenin, books are the ladder of human progress. --- Gorky. So reading more books is very useful, it makes us more clever, knowing more knowledge, much things in life and more confidence. This book lapel pins are opening, it's a cartoon book with cute
star
, heart, smiling face, rocket (
Rocket pins
). Cover have the "COMIC" and rainbow (
rainbow pins
). Light blue, yellow and pink colors.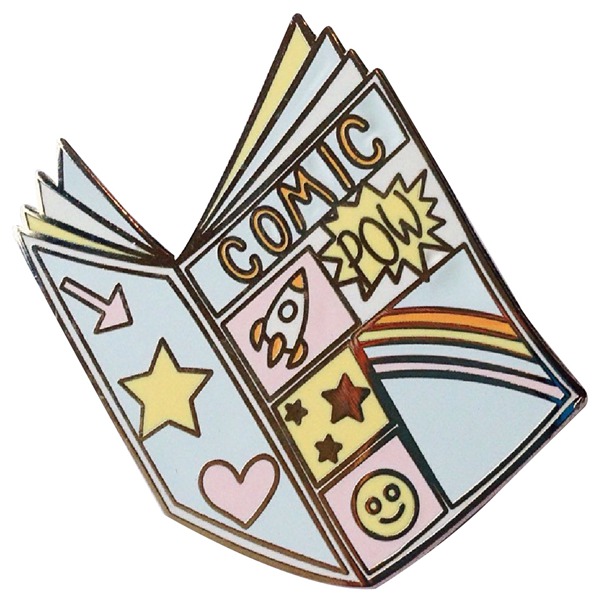 Below is the details:
1) Books lapel pins
2) Material: Iron/bronze
3) Size: 1" or custom size
4) Attachment: Butterfly clutch or rubbers
5) Production process: Die struck-polishing-hard enamel-gold plating
6) Minimum order: No Minimum (No MOQ)
7) Sampling time: 7 days
8) Delivery time: 10-15 days for 100-5000pcs
9) Packaging: Each into a free poly bag
10)Payment Terms: T/T, Western Union, Paypal